July 7, 2017
Auditing Health & Safety During the Current 'Care Crisis'
The UK's care home sector has faced renewed criticism after a report found that up to 1-in-3 care homes are unsafe with staffing issues, resident falls and medication errors amongst the top issues.
In a recent report featured in the likes of the BBC, Guardian, and the Telegraph, the Care Quality Council (CQC) announced "some 32% of homes failed on safety", with bed rails, medication errors, and hot radiators just a few of the failings identified.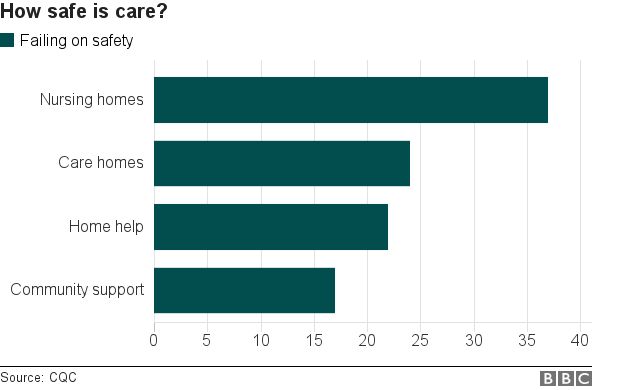 We take a look at some of reasons behind the figures in the report, and look at the responsibilities care providers need to be covering off.
Safety in care homes is being affected by structural difficulties in the market
With around 24,000 care homes in the UK, structural business pressures caused by increases in the National Living Wage (NLW – approx. 40% of all workers in the care sector receive the NLW) and reduced fees negotiated by local authorities have left the sector struggling to meet the needs of residents and demands of regulators in a tough trading environment.
In addition, providers are heavily reliant on agency workers to cover staff shortages, with 90,000 vacancies for social care jobs listed in England alone on any one day, according to Skills for Care. The largest nursing home groups report an average increase of 55% in use of agency workers to fill the gaps.
These agency workers typically cost double the standard Full-Time Equivalent (FTE), putting further financial strain on care providers.
These trading conditions are causing two fundamental issues for safety in care homes:
As highlighted by Health & Safety Practitioner, staff shortages lead to insufficient bodies on deck to look after residents effectively, with sometimes tragic consequences

Agency staff are insufficiently briefed on safety practice within any given care home, leading to staff who simply do not know how to operate safely in their environment
So what can care homes do to address these safety issues?
Care providers should perform a comprehensive health & safety audit across all their sites to understand where they are compliant/non-compliant, and understand how they are currently meeting their compliance obligations.
Areas to consider in the audit include:
Food safety
Care worker & nurse safety
Domestic cleaning safety
Maintenance safety
Safety of office employees
The Moorepay audit also covers everyone connected with a care home, such as the service users, contractors and visitors, and we consider this best practice when reviewing your health & safety.
Performing a health & safety audit
The audit should be as comprehensive and encompassing as possible.
Complete a detailed analysis of each area listed below, then generate an action plan highlighting any areas which need immediate action or are of concern.
Fire Safety including horizontal evacuation
Hoists and lifting equipment
Bed Rails
Clinical Waste
Training
Hot Water and Hot Surfaces, including exposed pipes radiators and taking water temps
Legionella
Workplace which includes secure stairways to prevent resident falling down stairs
Window restrictors
Laundry and chemicals
An audit should provide guidance on how to improve and remedy each situation, including a training plan and contingency plans for quickly bringing agency workers up-to-speed with your H&S regimen.