July 26, 2021
Changes to H&S rules in Step Four of lockdown lifting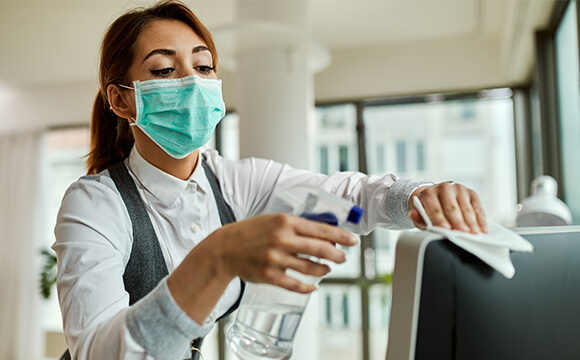 On 19 July 2021, England moved to Step Four of lockdown easing, which means new H&S rules for employers. Here's what you need to do.
Now that the UK is back open, you might be thinking, "Great! All of those health and safety rules don't apply anymore!" But unfortunately, the coronavirus is still around, and there are still some rules that you need to comply with to keep your customers and staff safe. Here's everything you need to do to ensure you're fulfilling your H&S obligations.
Complete a health and safety risk assessment that includes the risk of COVID-19
The government guidance has been updated and clearly states employers need to do a risk assessment to comply with H&S legislation. Your risk assessment should include common hazards and control measures in relation to COVID-19.
We'd recommend consulting with your workforce during the process, to make sure any control measures are sustainable for your employees, and also to encourage your workers to get involved.
Provide adequate ventilation
Good ventilation reduces the volume of virus in the air, and helps to reduce the risk of transmission.
Simply opening windows and doors to allow for fresh air intake and circulation will help achieve this. Where an air conditioning system is installed, check with a trained professional if the fresh air intake of the system could be optimised.
Clean more often
Do your employees share computers, kitchens, stationary, or printers? The coronavirus has been known to survive on surfaces and transmission can occur due to 'shared' contact with these surfaces and equipment.
Identify areas of the workplace that are subject to frequent contact and make sure these are cleaned at regular intervals. Avoid sharing of equipment where you can, and if anything is shared, clean the object between use. Having hand sanitiser available to staff, visitors and customers and encouraging regular use will also help reduce transmission.
Ensure people with COVID-19 symptoms don't attend the workplace
People attending your workplace with symptoms will undoubtedly put employees at risk and indeed increase the risk of transmission on a broader scale.
Ask your employees to inform you if they are experiencing symptoms of COVID-19 and advise them on the self-isolation period. Even self-isolation is not imposed by government rules, you may want to encourage this for your workers' safety.
Ensure your visitors and customers are told not to attend the workplace if they are experiencing symptoms through website publications, social media, external communications and signage.
Enable people to check in at your venue
Whilst at the moment it is not a legal requirement to collect customer details, asking people to check in at your workplace will help support the NHS Test and Trace system to identify those that have been in contact with persons that have been exposed to COVID-19.
Employers can display the NHS QR Code Poster and this can be generated here. Similarly you can ask the customer to record their details upon entry.
Communicate and train
It's important that any control or safety measures identified on your risk assessment are communicated to those affected and then of course followed.
Ask employees to participate in the risk assessment process as their feedback is invaluable. Keep employees, visitors and contractors updated and reminded on the safety measures via signage, briefing, publications or your usual internal communication methods.