July 14, 2016
E. coli 0157 outbreak affecting more than 100 people in UK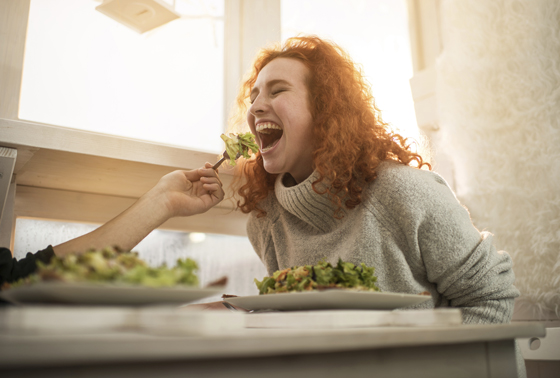 Public Health England (PHE) is continuing to investigate an outbreak of E. coli O157, with 100 cases currently being looked into.
The organisation, which suspects mixed salad leaves could be responsible for the outbreak, has put in place 'heightened surveillance' across the country.
To date, 109 incidences of this strain have been identified across the UK: 102 in England, six in Wales and one in Scotland. The south-west of England is particularly affected.
The cause of the infection is not yet certain, but preliminary investigations show many of the people affected ate salad, including rocket leaves, prior to experiencing symptoms.
However, PHE has not ruled out other food items as a potential source.
How E. coli is passed around, the consequences, and who's most at risk
E. coli O157 is found in the gut and faeces of many animals, particularly cattle, and can contaminate food and water.
It can be passed to humans by eating infected food, or by contact with infected animals, and it can also be passed from one infected individual to another person if hand and toilet hygiene is poor.
The infection can cause a range of symptoms, from mild diarrhoea to bloody diarrhoea with severe abdominal pain. On rare occasions, it can cause more serious medical conditions such as dehydration or kidney failure.
People with weakened immune systems, pregnant women, young children and older adults are more at risk of developing complications from infection with e.coli.
Best practice for containing the threat of e.coli
It's imperative that food businesses maintain good personal and food hygiene practices.
To reduce the risk of cross contamination from E. coli and other food borne bacteria ensure surfaces and equipment for raw and ready-to-eat food are adequately separated, either by physical separation or time separation. Separate work areas, surfaces and equipment for raw and ready-to-eat food should also be maintained.
Complex equipment, such as vacuum packing machines, slicers, and mincers, should not be used for both raw and ready-to-eat food during the normal operations of a business. These machines need to be fully dismantled and all surfaces cleaned and disinfected before changing the use of the machine.
The practicalities of changing machine use safely

In practice, it is unlikely to be practical for a business to regularly change the use of vacuum packers as a competent engineer would need to undertake the complicated dismantling and reassembling process.

However, cleaning and disinfection to allow a more permanent change of use, for example to re-commission and/or buy and sell second-hand vacuum packers, may be feasible.

In the case of slicers and mincers, dismantling, cleaning and disinfecting may be more straightforward but is unlikely to be feasible during normal business operations.
Other types of complex equipment, such as temperature probes, mixers and weighing scales, may be used for both raw and ready-to-eat food so long as the business can demonstrate such equipment will be effectively disinfected between uses.
Hand washing should be carried out using a recognised technique, such as the one advised by the World Health Organisation, and do not use anti-bacterial gels as an alternative to thorough hand washing.
Disinfectants and sanitisers must meet officially recognised standards and should be used as instructed by the manufacturer. You can find more information about food hygiene on the the Food Standards Agency website.
For tailored advice from our health and safety experts about how to ensure your workplace is clean, safe and hygienic, contact Moorepay's experts on 0345 184 4615 or click here for more information on our health & safety services.