July 20, 2020
Guidance on How to Safely Reopen Work Premises after COVID-19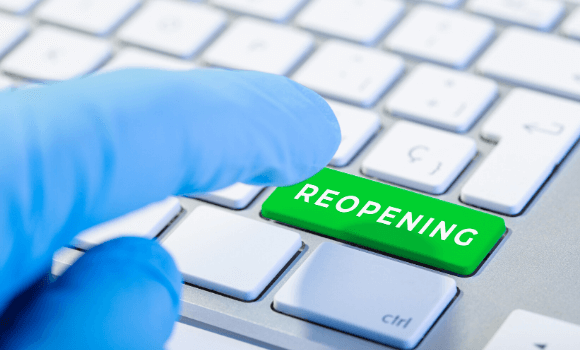 Following the Prime Minister's recent statement, from August 1st employers are now able to decide when to bring their staff back to the office. The key, from a Health and Safety perspective, is to carefully consider how this can be done safely.
On Friday 17th July, the government announced that instead of encouraging home working where possible, employers are able to decide for themselves if it's safe to bring their members of staff back into the workforce. Many employers are now planning how to enforce necessary new safety measures, such as social distancing, to keep their staff safe and comfortable in an office environment.
Find out how to do this following health and safety regulations below.
Reoccupation Risk Assessment
Employers need to remember that as they prepare their business for a return to some form of operation they need to be conscious that Regulation 3 of the Management of Health and Safety at Work Regulations 1999 requires employers to conduct suitable and sufficient risk assessments.  Which must cover risks to employees who are at work and also risks to non-employees arising from their operations.
The Reoccupation Risk Assessment might cover the following:
how employees and contractors can safely enter premises that may have been closed for a number of weeks to prepare the site for reoccupation
how to safely restart equipment and machinery that has been de-energised or just out of use for a period of time
how social distancing measures will be maintained (especially around entrances, lifts and other common areas)
the provision of adequate hand washing and welfare facilities
cleaning operations (in the context of COVID-19)
Consider whether further training is required both in relation to COVID-19 and in relation to routine operations that may have become unfamiliar to staff due to a period away from the workplace (and how this will be delivered).
There may also be specific risks, which are relevant to each of the activities outlined below, and for which a more detailed assessment of risks and controls will be required.
Building Safety
Fire Safety Systems
Water Management – Control of Legionella Bacteria
Asbestos Containing Materials (ACMs)
As an employer you need a structured plan to ensure your staff can safely re-occupy their place of work whilst social distancing controls are maintained. And how it will work to ensure pre-existing safe systems of work are not forgotten or made unsafe by reduced staffing levels, wearing of PPE or any other changes made to protect against viral infection.
Deep Cleaning for Reoccupation
The HSE's guidance on the Control of Substance Hazardous to Health Regulations 2002 (COSHH) states that whilst "COSHH does not cover a situation where, for example, one employee catches a respiratory infection from another".
Sections 2 and 3 of the Health and Safety at Work, etc Act 1974 (HSWA) place a general duty of care on employers for ensuring the safety of their employees and others which includes issues relating to the COVID-19 pandemic. Therefore employers must be able to demonstrate that they have taken reasonable steps to protect their health and safety and to provide a safe place of work. Whether or not an employer decides to 'deep' clean their premises ahead of reoccupation will depend on various factors.
COVID-19 is spread when an infected person coughs or exhales droplets of infected fluid. If someone is standing within one metre of a person with COVID-19 and they breath in these droplets they can become infected. These droplets can also fall onto nearby surfaces or objects. Other people can then be infected with COVID-19 by touching these contaminated surfaces or objects and then touching their eyes, nose or mouth.
It is important to remember, however, that the SARS-CoV-2 virus (which causes COVID-19) has a limited life expectancy on surfaces and objects and the infection risk decreases over time. Whilst it is not yet clear at what point there is no risk, studies have suggested that, in most circumstances, the risk is likely to be reduced significantly after 72 hours.
Therefore, where buildings/rooms have not been accessed for a number of weeks during lockdown, it is highly unlikely that they will present a COVID-19 infection risk upon reoccupation. However, a deep clean may be necessary just for general hygiene and cleanliness purposes after a prolonged period of closure.
Plant and Equipment Safety
Where buildings have been unoccupied for a period of time equipment may have been left unused. Prior to reoccupation consider:
Restarting Plant and Equipment
Statutory Inspections
Training and Supervision
If returning with a reduced or restructured workforce are there adequate numbers of employees competent to undertake the tasks required throughout the working day. Where supervisors may be covering extended shifts where a manager would normally work do they have the skills knowledge and experience to undertake the role.
Management of Health and Safety
Managing the Risks of COVID-19 Infection
The UK Government have put self-isolation for those who believe that they have the virus, social distancing and good hygiene practices as the key measures that everyone can take to reduce the spread of the virus. In reopening their premises, employers need to think carefully about how they will implement these three control measures and what effects they may have on other health and safety requirements such as supervision or lone working.
The measures here are not new and have been discussed broadly since late February. Controls are focused on:
Self-Isolation
Social Distancing
Key questions to consider when planning the return to a workplace include:
how can employees and others safely enter buildings
are there 'pinch points' within buildings and how are these managed
how to protect reception/security staff, e.g. are screens required
how will visitors be managed, e.g. are they required to sign in on a touch screen
how will people keep a safe distance in toilet/washing/showering facilities (remembering that delivery drivers and others working on site will also require access)
how do people access kitchen and drinking facilities and where will employee's eat
how will people exercise/get some fresh air
are Personal Evacuation Plans still adequate
do First Aiders know the updated guidance for giving CPR
do you have adequate staff to evacuate customer service users etc in the event of a fire.
Ongoing Good Hygiene Practices
The Workplace (Health, Safety and Welfare) Regulations 1992 place a number of requirements on employers for the provision of adequate welfare facilities. These include sanitary conveniences, washing facilities and cleaning. There are also general duties to provide a safe place of work under the Health and Safety at Work, etc Act 1974 (HSWA). Failure to provide suitable and sufficient welfare facilities could lead to the employer being prosecuted.
In re-opening their premises, employers must consider how employees and other interested parties on site can follow good hygiene practices, and whether any further measures or training are required.
For a small office, this may be as straightforward as ensuring that there is an adequate supply of liquid soap in washrooms and alcohol hand gel at entrances. However, for busy sites with multiple visitors, consideration should be given to the installation of additional hand cleaning stations. There may also be specific tasks that require further measures, e.g. those who handle external post and deliveries.
Training
In addition to any specific refresher training required to operate plant and equipment (as outlined previously), employers must also review whether any general refresher or updated induction training is required for those on site. This may be particularly relevant where social distancing measures have been introduced, for example a change in First Aider/ Fire Warden coverage.
Are staff given information on the government guidelines around social distancing and hand washing and if provided the correct use of face masks.
Managing Contractors
Employers already have a range of formalised and implied legal duties in respect of the health and safety management of contractors. In moving towards reoccupation of sites, employers must review their existing contractor controls to ensure that they adequately cover any new risks introduced by the COVID-19 pandemic. This particularly regards issues such as: ensuring social distancing; provision of welfare facilities; robust lone working arrangements; that any works are properly controlled; and that arrangements for issuing permits to work can still be operated.
Managing Wellbeing
One of the impacts of the lockdown measures that were introduced is the impact on people's mental health and wellbeing. We do not know how employees and other interested parties will react to returning to the workplace after many weeks of either working from home or having been on the UK Government's furlough scheme.
In terms of work-related stress, the HSE have led successful prosecutions against employers who have failed to adequately support their employees on this complex topic. In terms of advice for employers, the HSE have developed a Management Standards approach to give employers guidance.
Employers may also want to review how they can support the mental wellbeing of their employees when they return to the workplace helping reduce further lost time due to sickness absence. Issues to consider include: helping employees make the adjustment back into working life; offering some form of bereavement support for employees who may have lost someone during the COVID-19 pandemic; and providing general advice and support for employees who may be experiencing anxiety about the ongoing situation (e.g. by signing up for a formal Employee Assistance Programme, giving confidential telephone and counselling support).
Get guidance and support on returning to work after lockdown with our consultancy services.
**Information in this blog was correct at the time of writing, however with government and legislation changes happening daily some of this may now be out of date.**