June 18, 2014
Top tips for attending the HR Software Show 2014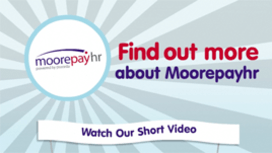 Planning on investing in HR software or upgrading your existing solution?
Well, today is the first day of the industry renowned HR Software Show 2014 at Olympia in London – so it's time to find out what's on offer.
Held on the 18th and 19th June the CIPD's free event gives HR and payroll professionals' the chance to find HR solutions to suit their business from industry's leading suppliers.
As one the UK's leading HR and payroll providers, the crew here at Moorepay will be showcasing all our latest cloud-based products, including our new Auto Enrolment solution.
If you are attending, here are our top five tips for getting the most out of the show…
Get there early        
On both days, the doors open at 9.30am. The earlier you get there the more time you'll be able to spend with the exhibitors before it gets too hectic. There are free learning events too, so getting there early will work to your advantage.
You can register online for quick entry into the exhibition simply by filling in the online form atwww.cipd.co.uk/events/hr-software-show.
Understand the HR software industry
There are huge changes going on in the world of HR software – with old technology being replaced with online Cloud-based solutions.
It's hard to tell which systems are up-to-date, unless you have done your homework.
Plan where to go
It can get very busy so it's worth booking appointments in advance at the exhibition website www.cipd.co.uk/events/hr-software-show/exhibition/exhibitors. You can get also use Twitter and LinkedIn to find out who will be there.
We'll be at stand H125, where you can to find out how our cloud-based solutions can benefit your businesses and pick up a goodie bag!
Ask relevant questions
It's vital to work out what your business needs most and prepare the questions you want to know. Usability and pricing are always hot topics for any business wanting to get the most out of a solution.
Prepare
You'll need a pad, pen, and a big bag for brochures. It's a good idea to bring a bit of cash for lunch too, since not all outlets take card.  If it's really busy, there's a coffee shop just opposite Olympia.
Remember, there are often queues on the way out and you could miss your train if you're not careful.