Emergency Payroll Service
Need urgent support managing your payroll and paying your employees?

We can process your payroll for you in time for pay day.

Implementation from as little as 48 hours (for a basic pay run).
If you're in a critical situation where you need additional payroll support, we can step in and run your payroll for you.
One-to-one support

Our expert team will be on hand to help throughout the process.

Full visibility

We provide a payroll preview before the payroll is committed.

Ensure your pay run is compliant with the latest payroll legislation.
Get the help you need today.
Submit your details now to discuss your options.
What do you get with our Emergency Payroll Service?
What your emergency pay run will look like.
Scoping session

We'll get to know about your situation and the intricacies of your payroll in a thorough scoping session. And you provide the essential information we'll need to run your payroll.

Processing the payroll

Our experts will run your payroll as a managed payroll service. So there's no need for you to get your calculator out – we'll make sure everything is accounted for, including doing the complex payroll calculations and ensuring compliance with the latest legislation.

If we're really tight for time, this will be a basic gross to net calculation with employee payments, that we can deliver in as little as 48 hours.

Payroll preview

You can oversee your upcoming pay run as we provide you with a payroll preview.

A perfect pay run

Once approved, we run the payroll and your employees get paid on time for pay day.

We can deliver this in as little as 48 hours via Faster Payments.

Auto enrolment ready

Don't worry about auto enrolment, because we also calculate employer and employee pension contributions, upload the pension contributions and initiate payment with the pension provider.

Reporting sorted

We'll complete all your reporting for the HMRC, so you stay compliant.
Fast-track implementation
What your pay run will look like, depending how much time you have
48 hours

Emergency pay

Only have 2 days to spare? We'll deliver a basic Gross to Net Calculation and Employee Payments within 48 hours via Faster Payments.

20 days

Basic payroll

A complete back-run and basic payroll (SSP and variables) for the current period, via a fully Managed Service – meaning our team will run it for you.

30 days

Cloud payroll

Catch-up with outstanding statutory and holiday payments, and deploy a cloud-based Managed Service.

40 days

Self-Service

Online time sheets, expenses and absence deployed via Self-Service and the Mobile App to your employees.

Ready?

Automate

Read, set, automate. Switch on automated payroll functions lock-down and clear down to the next pay period.
Speak to our team
Need help running your payroll? Get in touch now to see how we can help you.
When do you need emergency payroll cover?
Unexpected absence

If your payroll manager takes unexpected leave, it can mean one of your critical business functions – paying your employees – is at risk. And you might need a team like Moorepay to cover until they return to work.

Your payroll people leave

Recruitment is tough for many businesses right now, and if your employee leaves the business, or simply takes planned leave like parental leave, there might not be anyone else to cover for them.

Your current payroll provider isn't cutting the mustard

Maybe your last payroll provider is simply letting you down and messing up your payroll. If so, you might want to switch ASAP! And we can help with that.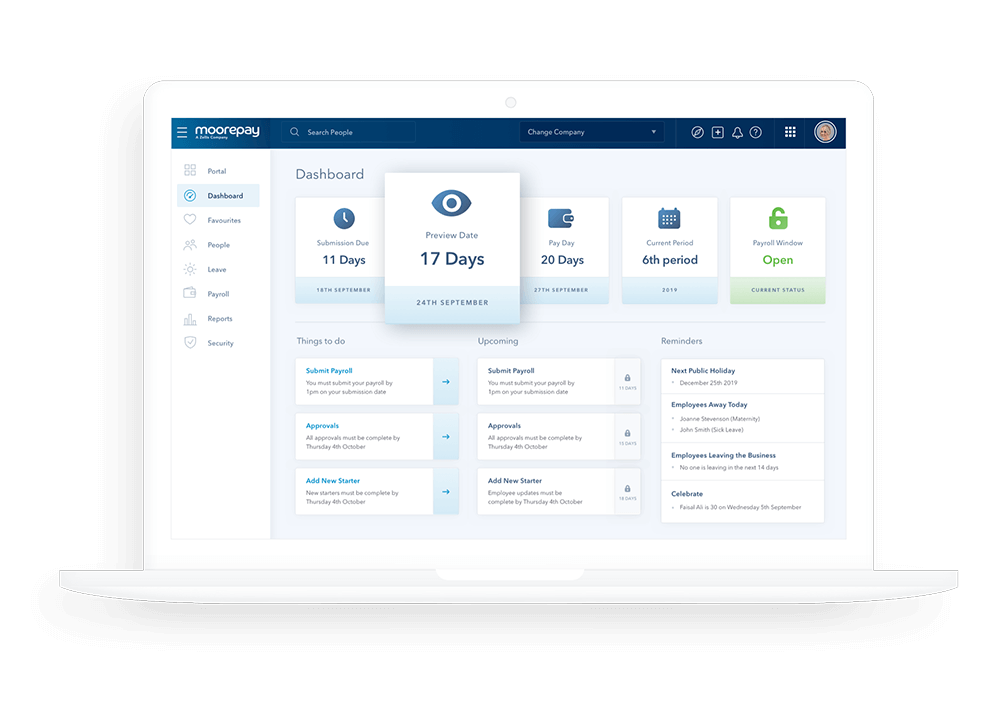 Our UK-based team is here for you
Say goodbye to support tickets. Whenever you need technical support, our team of friendly experts are available over the phone or over email, and at no extra cost.

Our CIPP and CIPD qualified industry specialists keep up with fast-changing, complex legislation, to keep our payroll software up to date and make payroll and HR easy.

Our payroll services are HMRC recognised and backed by industry-recognised accreditations, so you know you're in safe hands.
Badges of honour
Accredited by everyone who's anyone. We wear our badges with pride.






Emergency Payroll Service FAQs
We answer the most frequently asked questions about our emergency managed payroll service.
How long does it take?

Of course, the more lead-up time we have the better. But we also know you wouldn't be visiting this page if you didn't need us to turn this around quickly.

The minimum amount of time between your scoping call and pay day can be as little as five business days. However, there are multiple factors that may impact this turn-around time, so it's always best to contact us as soon as possible to get the process started.

What information will I need to give you?

You'll need to give us some information to process your payroll. This includes all the usual like salaries and bonuses, any starters and leavers that month, benefits, etc.

How do I know your platform is secure?

Moorepay's Payroll Software is built on Microsoft Azure technology, so you know it's backed by the best.

Plus, we undertake ongoing vulnerability scans, security updates and regular pen testing, as well as continuous monitoring through the market leader, BITSight.
Will I have to do the payroll calculations myself?

No, you won't. With our Emergency Payroll Service, we run your payroll as a managed service, which means our team sorts out all of the payroll processing for you.

Can I check the calculations?

Yes, you'll have chance to check everything is accurate in the payroll preview.

What will emergency payroll cost me?

Our pricing is as bespoke as our products. So speak to a member of our team today who will get to know your needs and will be able to provide a quote to suit you.