March 30, 2020
COVID-19: My Employees Can't Work From Home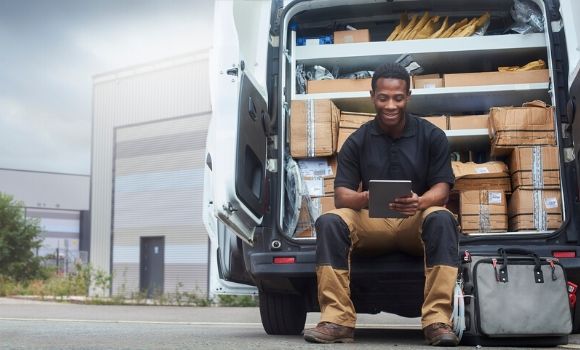 What can you do when your employees can't work from home during the COVID-19 pandemic? Keep reading to find out. 
Millions of people are transitioning to homeworking and battling with IT systems and collaboration apps. We're also getting used to this new routine of remote working. But for many managers and employees, switching to homeworking is simply not an option.
Perhaps you work in the manufacturing, transportation or food sector? Carrying out work to provide the nation with valuable services and resources throughout the COVID-19 outbreak. For delivery drivers and warehouse staff, remote working isn't possible either.
How do you cope when you and your team are unable to follow the government's recommendations? What do you do if your employees can't work from home?
Key Safety Advice When Your Employees Can't Work From Home
Social Distancing
In these circumstances, following key safety advice is critical. Are you providing adequate hand washing, sanitisers and social distancing measures? For example, can breaks and lunch times be staggered to reduce foot traffic? Can staff be segregated during delivery times, such as when lorry drivers are unloading their lorries?
Employee Wellbeing
Prioritising the health and wellbeing of your employees, including their mental health is critical. Throughout this period, there will be much uncertainty for everyone regarding their health, jobs and families. So, it's important to be vigilant over working conditions.
If you're working in an environment that doesn't support remote working, consider the changes that need to be made and how you can communicate on a regular basis to reassure your team.
Health & Safety Guidelines
Employers need to ensure their staff are receiving the legal number of breaks and are following the company's health and safety guidelines. For instance, using ladders and lifting heavy goods in warehouses.
Increased Hygiene Measures
Of course, follow the recommendations from the NHS for washing your hands and avoiding skin contact at work where possible. Can employees wear gloves during work? Can they go for regular breaks to wash their hands? Can you remind them to avoid touching their faces?
Work Rotations
If it's possible, can you divide staff to work across different parts of the business and alternate working from home? You'll need to have strict conditions that the teams have no physical contact, and switch after two weeks (the presumed incubation period of the virus).
Expand Sick Leave
Some companies may create new sick leave rules to help prevent the spread of Coronavirus between employees and customers, particularly if any staff have been tested positive for COVID-19.
However, this may be difficult for small businesses that could struggle with the financial impact.
Communicate with Customers
With uncertainty causing high levels of concern, it's important to communicate with customers via email or social media about what you're doing to keep your business clean, employees healthy and any operational changes.
Close and Clean
If a worker is exposed to the Coronavirus or confirmed to have it, prepare to close for at least a day and give the premises a thorough cleaning or consider performing a "deep clean overnight."
For more Health and Safety guidance related to specific industries such as care homes, manufacturing, factories or office environments, Moorepay customers can call our Advice Line on 0345 184 4615 (option 3).