Payroll Solutions
Looking to keep payroll in-house and want software that makes life easy?

Or perhaps you're keen to outsource, so that payroll experts take care of everything for you?

Either way we've got you covered with our easy software and quality services.
Moorepay's Payroll Solutions
Easy software and quality services to suit the needs of your business and ensure compliance with payroll & HR legislation.
Payroll Software

Reliable, cloud-based software that's easy to use, accessible on any device, and backed by secure, Microsoft Azure technology.

Always compliant with HMRC legislation
Packed with automated calculations to save you time
Option for full integration with our HR software

Payroll Outsourcing

Enter your data into our easy-to-use Payroll Software, and our team of qualified payroll experts take care of the rest.

HMRC and Payroll Assurance Scheme accredited
99.9% payslip accuracy rate
UK-based payroll support over the phone
Enjoy worry-free compliance
Our huge team of product developers and industry experts make sure our easy to use software is always compliant with changing legislation.

CIPP accredited

Accredited by HMRC and the CIPP's Payroll Assurance Scheme – rest assured you'll get a top quality payroll service from Moorepay.

Expert support

No more sleepless nights worrying about compliance and fines from HMRC, our experts take care of the tough stuff.
Products that go well with payroll
We've got plenty of integrated add-ons that go perfectly with our payroll solutions.
HR Software

Enjoy an integrated payroll & HR platform that saves you time and reduces the risk of errors.

Benefits

Attract and retain your top talent with hundreds of benefit and discounts to suit their needs.

Time & Attendance

Integrate your payroll software with time and attendance to save time.
Data analysis – made easy!
Quickly see all your people data in one place and in handy, pre-configured dashboards.

Run reports and get board-ready data at the click of a button, it couldn't be simpler.

No more wading through excel spreadsheets. Make informed business decisions – fast!
Switching to us is simple
Our helpful team of implementation experts are rated Excellent on Trustpilot. They'll take good care of you and your business.
Chat to the team
Not quite sure what you're after? Give us your number and we'll drop you a call.
What do our customers think?
Don't just take our word for it! Hear it directly from our payroll customers.
see it in action
Interested in our easy payroll software?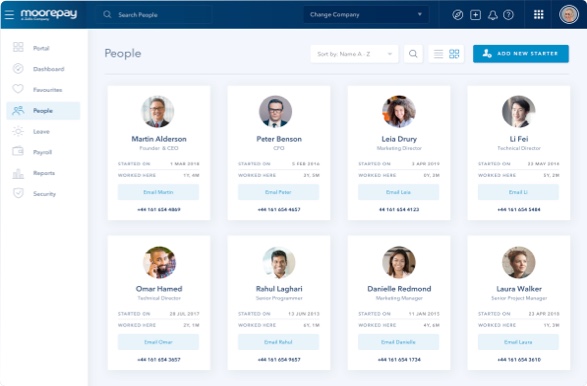 Badges of honour
Accredited by everyone who's anyone. We wear our badges with pride.




Frequently asked questions
Got some questions? That's OK, we've got some answers.
What's the difference between Moorepay's payroll software and the 'managed service'?

If you want to process your payroll in-house, Moorepay's payroll software is designed to make this easy. Save time with automated calculations and workflows and take advantage of rich functionality. Plus, you can contact our payroll team if you need help with the software. If you don't want to do any payroll processing and you want to outsource it, choose our managed service. You'll still use our intuitive payroll software to enter your data – but our team of experts will take care of the payroll processing and ensure you're compliant with the latest payroll legislation.

Will Moorepay's payroll & HR software integrate with other systems?

Absolutely, yes! Our payroll & HR software has an open API (Application Programming Interface), this means it will happily talk to other systems, whilst maintaining strict data security.

What accreditations does Moorepay have?

We've maintained the Chartered Institute of Payroll Professional's PAS (Payroll Assurance Scheme) accreditation since 2012. This means regularly passing a rigorous audit that was developed in partnership with HMRC. We're also ISO accredited for both Quality Management and Information Security Management. Plus, we're proudly HMRC approved and accredited by the Bacs Approved Bureau Scheme.
If I become a Moorepay customer, what payroll support would I get?

Our customers love us because – unlike some of our competitors – we give them direct access to fully qualified, UK-based payroll support. That means a dedicated account manager you can contact when you need help. There's no ticketing system, no waiting days for a response; just pick up the phone and talk to us.

What company size does Moorepay's payroll & HR software best suit?

Our products are designed for a wide range of business sizes. The majority of our customers have around 30 to 1000 employees. We do have customers who are outside of that bracket, however, it depends on what the requirements are, so give us a call and our team will advise you.

How long does Moorepay's implementation process take?

We can move you over to Moorepay in as little as four weeks! We have a huge implementation team who manage the process and make it easy. In fact, this team are always getting 5-star reviews on Trustpilot from new customers saying how fabulous they are – check it out!
TAKE IT AWAY
Grab a payroll brochure