Outsourced Payroll Bureau Services
Giving you and your growing business peace of mind that your payroll is legislatively compliant and your employees are paid on time, every time.
Recognised by HMRC and accredited by the CIPP's Payroll Assurance Scheme.

Winner of the CIPP Payroll Service Provider of the Year Award 2023 and the Rewards Payroll & HR Software Product Award 2022.
Established in 1966, we're now a market-leading payroll bureau provider for UK businesses with 30+ employees.
Quality payroll bureau services

We can manage everything from data validation, calculations, payroll processing, Bacs, payslip printing and distribution, reporting of your payroll, and much more.

Our team make sure your payroll is always compliant with fast-changing legislation, so you'll avoid those costly fines.

With a 99.9% payslip accuracy rate, you can trust us to pay your people right, on time, every time.

Dedicated UK-based service team

UK-based, fully qualified, experienced and immediately available by phone or email – no ticketing systems here!
Have over 30 employees? Get a quote today!
Moorepay will use your personal information to contact you from time to time with other information that may be of interest to you. All personal information is collected and used in accordance with our privacy notice.
What does our Payroll Bureau Service look like?
We've got thousands of customers who outsource their payroll to us. Our payroll experts take quality care of their end-to-end payroll provision.
Easy data entry

Payroll just got even easier! Enter your data – starters and leavers, salary changes and bonuses – into our intuitive, easy-to-use cloud-based payroll software. It's available anywhere, anytime, with no time-consuming installations.

Expert data validation

Monitoring is in-place to ensure accurate data entry and payment calculation. We'll check payroll calculations and make PEP checks on payments in accordance with FCA regulations. We'll identify and provide a list of errors or rejections for you to review. In your live run we'll validate payday against lockdown notifications and issue Bacs payment instructions for employee payments.

Payroll processing

With our payroll bureau service, we'll maintain net to gross calculations in-line with statutory rules, ensuring pro-rata values as stipulated by you are applied along the way. No need to worry about Statutory Sick Pay, (SSP) maternity, adoption and paternity pay we'll apply all your variable adjustments for you. We're also on-hand to aid in handling employee under and over-payment.

Documentation

We'll produce all statutory documents for your employees including P45, SSP1, SMP1, OSPP1, and SAP1. There is also the option to provide a GL file for each pay group and a pension interface file.

Reporting

As part of our payroll bureau offering, we'll review your audit reports. Producing Payrun reports to meet your internal requirements and bespoke reports as required. We'll store and back-up all current and past payroll output reports for audit purposes.

End of year

We prepare and submit your FPS and EPS* to HMRC, settling up those end of year obligations with HMRC. We'll build out your system ready to meet the requirements for the new tax year. We'll also provide printed or electronic P60s as required and produce draft P11Ds.
Award-winning Payroll & HR Software and Services
At Moorepay, we take pride in being the best in HR and Payroll Software and Services.  We've even been recognised by prestigious awards – named as the winners of the CIPP's Payroll Service Provider of the Year 2023 and The Rewards Payroll & HR Software Product of the Year Award 2022.
Working with us means you'll have access to top-notch payroll solutions and industry-leading software you can trust.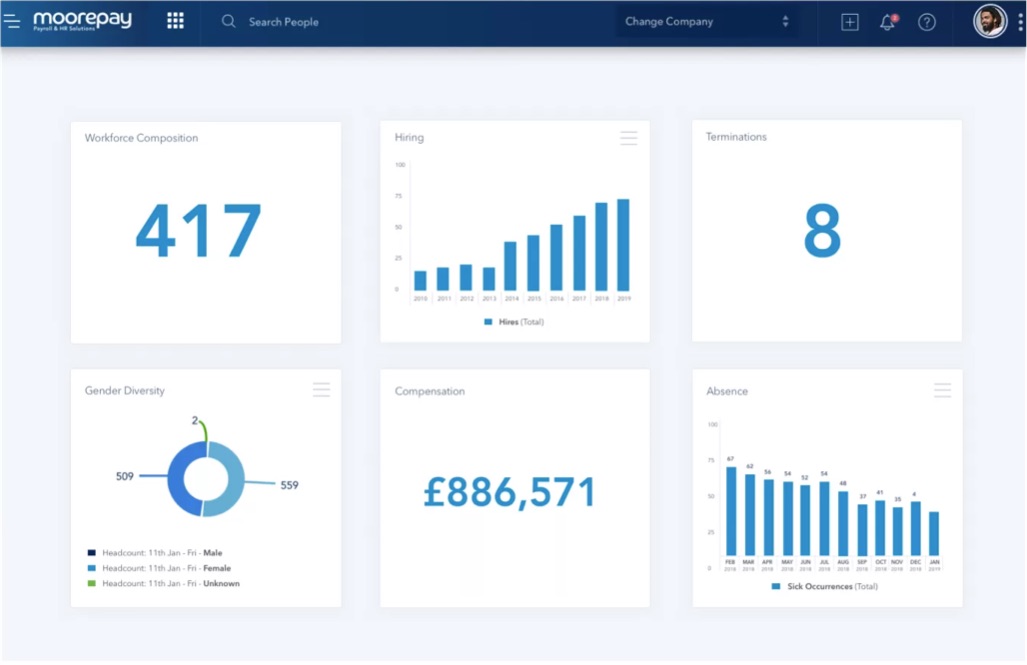 Expect accuracy and worry-free compliance
With a 99.9% accuracy rate, you can trust us to pay your people right, on time, every time – it's all part and parcel of our payroll bureau offering!

Our product development team and legislation experts make ongoing updates to our software, so it's always up to date with the latest legislation.

We continually invest in our people so they're highly skilled, leaving you to enjoy peace of mind over the accuracy of your payroll.
Feel fully supported by UK-based payroll experts
Say goodbye to ticketing systems! Your payroll team of 200+ people is always available over the phone or over email, and at no extra cost.

Did we mention our people are certified payroll experts? Qualified by the CIPP and with more than 7,000 years' combined experience – with our managed payroll offering, you're in safe hands.

Our friendly, industry specialists will support you one-on-one with fast-changing, complex legislation, to make payroll and HR easy.
Empower employees with intuitive self-service
Catapult the employee experience of payroll and HR into today's modern world, by giving them access to an easy-to-use Mobile App.

Logging in is hassle-free, fast, and secure, thanks to single sign-on, biometric login capability and privacy features.

Your employees will easily access their payslips, P60s, and book leave – so you'll get less queries, and have more time.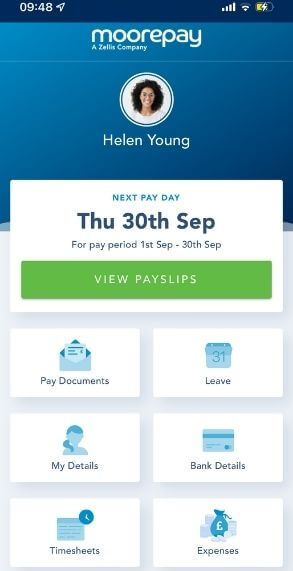 QUALITY PROCESSING
"A fantastic experience" says our customers
Claire Williamson, CFO of Pall Mall Medical, loved our scalable and time-saving software, expert support, and bespoke processes using Moorepay's Payroll Outsourcing Services.
easy software
You'll love our award-winning payroll software
Easy to use

A logical menu structure, intuitive interface and pop-ups that guide you through the software, make it easy to use.

Easy to access

Online software that integrates with your other systems and can be used anytime, anyplace, make it easy to access.

Easy to trust

Continuous and robust security monitoring, securely stored data, and technology that's backed by Microsoft Azure, make it easy to trust.
Badges of honour
Accredited by everyone who's anyone. We wear our badges with pride.






Switching to us is simple
Our helpful team of implementation experts are rated Excellent on Trustpilot. They'll take good care of you and your business.
Chat to the team
Got questions about outsourcing your payroll? Fill in our form and we'll get right back to you.
How does Moorepay get my payroll data?

When you outsource your payroll to Moorepay, our payroll experts will work with you to gather employee data and create a structure that fits your pay cycle. You will be given a deadline for data submission. This data can be input via our easy-to-use system or via SFT (a secure file transfer of data to Moorepay's data storage site).

Moorepay will then collect data and prepare your payroll for processing.

Do I need to submit anything to HMRC if I use Moorepay's payroll bureau offering?

You'll need to send your P11Ds to HMRC. (support on sending / uploading is provided on the HMRC website)

You will also need to calculate and pay the applicable Class 1a NICs associated with the P11D to HMRC. (support on calculating and paying the costs is via HMRC)

What happens if one of my employees is over or underpaid?

In the event that an employee of yours is over or underpaid, we'll work directly with you to discuss the appropriate method to calculate, recall and recover any overpayments or underpayments.

As part of our managed payroll offering, we'll report overpayments to you immediately once they have been discovered. We'll ensure the employee record is updated in the Moorepay system to reflect the recovery of overpayment.
What's the process once I have input variable changes?

You'll send us your payroll data including things like starters and leavers, salary changes and bonuses. During implementation, you'll be asked to stipulate any variable changes.

Our experts will validate your data. Once we're happy with the data we'll input it into our system and make the relevant calculations.

Our experts will check the output, you'll then receive a review and authorise the payroll. We'll then produce your employees' payslips and your payroll reports.

Payslips are then made available to your employees; you'll get your reports and RTI submissions are made. Employee payment is made on your behalf.

Should you have any, we'll handle your queries on P60s, payroll calculations, payslips and payments to employees.

How does Moorepay process employee Auto-Enrolment?

With pensions arrangements we make the deductions and report to the relevant pension companies on your behalf. See more on our full Auto-Enrolment service.