Online Payroll Software
Recognised by HMRC and accredited by the CIPP's Payroll Assurance Scheme.

Winner of The Rewards Payroll & HR Software Product of the Year Award 2022.

Our easy, cloud-based Payroll Software is safe and secure on the latest Microsoft Azure technology.

It's packed with automation to save you time, guarantee accuracy and ensure worry-free compliance.
What does our cloud-based Payroll Software actually do?
Our award-winning, Next Generation Payroll & HR Software has plenty of bells and whistles to make your life easy.
Automated calculations

Software that does the hard work for you. No need to manipulate your data offline: our software incorporates the latest SSP, OSP, holiday accruals, over and under payments to leavers, and Auto-Enrolment legislation to calculations, and runs them for you.

Payroll dashboard

See your payroll tasks, countdown to payday and payroll lockdown all in one place.

 

Our dashboard is easy to navigate, that means no more endless searching for screens, and flipping between systems – managing payroll is much easier!

 

Need to make changes? It's easy to restore payroll to the point prior to cleardown.

 

Jump to the next section to learn more about our easy payroll dashboard.

True integration

Our Payroll and HR Software are one and the same. That means one source of truth and one point of data entry.

We seamlessly integrate into Microsoft Office 365, so your managers and employees have greater visibility of holidays.

Our open API infrastructure means you can hook your existing software up to your payroll and HR system, saving you time and ensuring data accuracy.

New starter wizard

Get helpful prompts when inputting your new starter data. Save time by only inputting your people data once, before it's reflected in real-time across other areas of the system.

Rapid employee searching

See all your people data in one place. Quickly find the people you're looking for and make changes where necessary with an intuitive search function.

No more wasting time cross referencing across systems and documents, the filter function makes it even easier to search by department, cost centre or other details.

Timesheets & expenses

Let employees input their own timesheet and expenses data through cloud-based Employee Self-Service available in app and via desktop.

 

Bespoke hierarchy functions ensure approval is directed to the right person in your business.

 

As an admin you'll be able to bulk upload timesheets. No more manual and time-consuming timesheet uploading and laborious hours of admin.

 

Get instant notifications on submissions so your managers can make speedy approvals.

Reporting & analytics

Our best-in-class Analytics module lets you find your payroll data quickly.

Export 'out-of-the-box' compensation dashboards or customise your metrics and drill-through into spend and salary by department and location.

Quickly find gender pay gap reports ready for submission and review.

Our Report Builder tool allows you to go granular with your payroll data, saving metrics to revisit as you like.

Should you have a bespoke reporting requirement our tech team are on-hand to deliver it.

Auto-enrolment ready

Workplace pensions made easy! Calculate employer and employee pension contributions at the push of a button, upload the pension contributions to the pension provider and initiate payment with the pension provider.

Easily manage your opt-ins and outs in software and see it reflected in employee deductions.

Learn more about our auto-enrolment pension solution.

Helpful reminders & support

Built in features and reminders make payroll processing even easier, making sure you never miss a deadline. Guided support features throughout the software make it super user-friendly – both you and your employees have support on tap.
Payroll & HR complete
All-in-one software
Payroll & HR Software are better together. Enjoy a truly complete solution with our all-in-one platform. Learn more here. Managing payroll just got easy
Increased visibility

See your payday countdown, period end, upcoming deadlines, when payroll is locked & completed, preview dates and key reports – it's all fast to find!

Helpful reminders

You'll get handy alerts when employees are due to leave the business, when they're on holiday, and when milestones and birthdays are upcoming.

Fast task completion

Everything's in one place! Quickly approve expenses, timesheets and leave, add new starters and carry out your payroll tasks.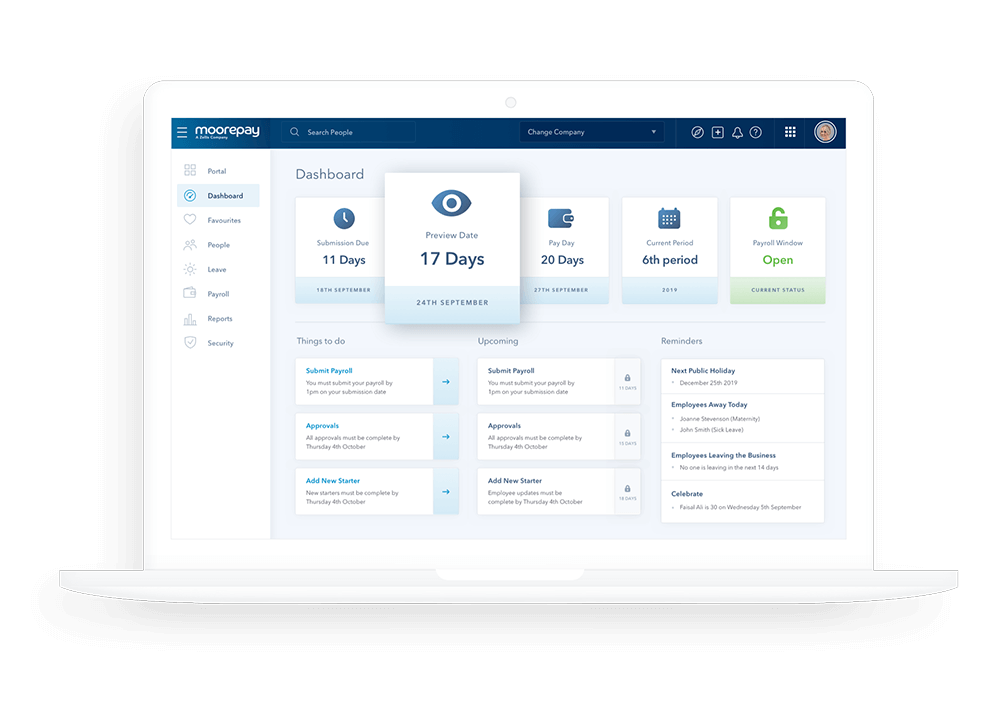 easy to use
Expect plenty of automation and flexible integration
Our cloud-based payroll software is packed with automated calculations, so the payroll heavy lifting is done for you – saving you time and money!

Accuracy and compliance

From OSP, SSP, AE and holiday accruals, all rates are auto applied – with accuracy and compliance as standard.

Flexible integration
easy to access
Bye bye same-old old queries. Hello Mobile App!
Boost the employee experience of payroll and HR by giving them access to an easy-to-use Mobile App.

Logging in is hassle-free, fast and secure, thanks to single sign-on, biometric login capability and privacy features.

Your employees will easily access their payslips, P60s, and book leave – so you'll get less queries, and have more time.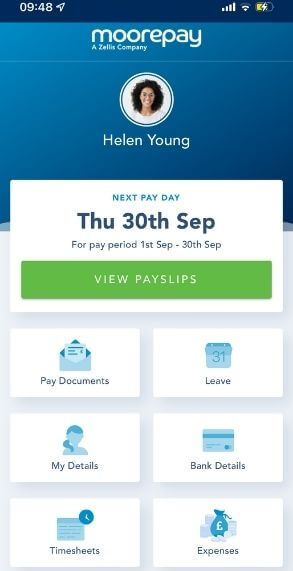 easy to trust
Technology you can rely on
Our secure payroll software is built on the latest technology and backed by Microsoft Azure.

Cloud-based

Anywhere access means greater flexibility for you and your employees.

Secure

We undertake ongoing vulnerability scans, regular pen testing, and continuous monitoring through the market leader, BITSight.
See it in action
Like what you're seeing so far? Book a demo with us and we'll show you more…
It's easy to use, but our UK-based team is here for you
Whenever you need technical support, our team of friendly experts are available over the phone or over email, and at no extra cost – so no more raising tickets and waiting around.

Real support from real people

We'll also make sure you get the most from your cloud-based payroll software with additional support from real people, whenever you need it.

Experts keeping you compliant

Our industry specialists keep up with fast-changing, complex legislation, to keep our payroll software up to date and make payroll & HR easy.
Switching to us is simple
Our implementation team will make sure your onboarding experience is as streamlined and top-grade as our software is.
Report on your payroll & HR data – fast!
Real-time dashboards are configured for you, to make your payroll and people data easy to digest and quick to share.

Produce board-ready reports at the push of a button – no more wasting time, drowning in spreadsheets.

Support your company strategy by quickly providing valuable data insights you can trust.
What do our customers think?
Don't just take our word for it! Hear it directly from our payroll software customers.
Badges of honour
Accredited by everyone who's anyone. We wear our badges with pride.






Payroll software FAQs
We answer the most frequently asked questions about our payroll software.
What's the difference between Moorepay's payroll software and the 'managed service'?
If you want to process your payroll in-house, Moorepay's payroll software is designed to make this easy. Save time with automated calculations and workflows and take advantage of rich functionality. Plus, you can contact our payroll team if you need help with the software. If you don't want to do any payroll processing within your team and you want to outsource it, choose our managed service. You'll still use our intuitive payroll software to enter your data – but our team of experts will take care of the payroll processing and ensure you're compliant with the latest payroll legislation.
Will Moorepay's payroll & HR software integrate with other systems?
Moorepay provide leading-class payroll & HR software, with true integration. That means if employee details are changed in one system then it's reflected in the other system in real-time. For example, if employee banking details are changes in Moorepay's HR Software then this change is reflected in the Payroll Software.
If you already have other business tools currently in use then data connections can be made through API integration. Our open API infrastructure allows data to flow seamlessly between Moorepay and third-party applications.

We can also enable flat file data exchange and powerful import and export capabilities through our Mapper tool that allow integration.ayroll & HR software has an open API (Application Programming Interface), this means it will happily talk to other systems, whilst maintaining strict data security.
What accreditations does Moorepay have?
We've maintained the Chartered Institute of Payroll Professional's PAS (Payroll Assurance Scheme) accreditation since 2012. This means regularly passing a rigorous audit that was developed in partnership with HMRC. We're also ISO accredited for both Quality Management and Information Security Management, and have the government backed Cyber Essentials certification. Plus, we're proudly HMRC approved and accredited by the Bacs Approved Bureau Scheme.
How long does Moorepay's implementation process take?
We can move you over to Moorepay in as little as four weeks! We have a huge implementation team who manage the process and make it easy. In fact, this team are always getting 5-star reviews on Trustpilot from new customers saying how fabulous they are – check it out!
What can employees do via self-service?
Every employee will have access to a cloud-based self-service platform that allows them to view and edit their personal details, view their pay history and download and view their payslips.

If the expenses and timesheets module is a part of your software then employees will also be able to submit expense and timesheets for approval. Managers will be able to view these details, approve, reject or request more information on requests.
Users on our Next Generation Payroll & HR Software will have access to the Moorepay Mobile App. This allows employees to manage their pay and details on the go. You can find out more about our
Mobile App and its functionality here.
If I become a Moorepay customer, what payroll support would I get?
Our customers love us because – unlike some of our competitors – we give them direct access to fully qualified, UK-based payroll support. That means a dedicated account manager you can contact when you need help. There's no ticketing system, no waiting days for a response; just pick up the phone and talk to us.tact when you need help. There's no ticketing system, no waiting days for a response; just pick up the phone and talk to us.
What company size does Moorepay's payroll & HR software best suit?
Our products are designed for a wide range of business sizes. The majority of our customers have around 30 to 1000 employees. We do have customers who are outside of that bracket, however, it depends on what the requirements are, so give us a call and our team will advise you.
What do Moorepay do to ensure data security?
Not only are Moorepay the market leader for payroll & HR software, we're experts in protecting your sensitive data. We are ISO 27001 Accredited, which means we are regularly audited and maintain high-levels of security across our software.

Customer payroll data is stored in a purpose-built UK-based data centre, owned and operated by IBM. All data sent to and from our services are protected through a 256Bit SSL Certificate using the HTTPS protocol.

Our security team run regular Pen tests and vulnerability scans that give a snapshot of security. In addition to our security monitoring system, BitSight, which is continually monitoring and checking security levels and vulnerability.
Does Moorepay take care of pensions auto-enrolment?
Definitely, we have an entire team of auto enrolment experts! Simply choose a pension provider, send us your employee data, register with the Pensions Regulator – and we take care of the rest. Visit our Auto-Enrolment page to learn more.
take it away
Grab a brochure