December 5, 2019
How do I Manage Annual Leave at Christmas?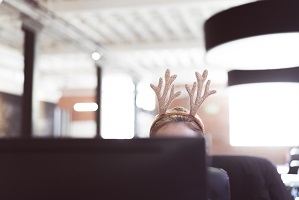 Christmas may be 'the most wonderful time of the year', but for many employers it can be a time-consuming and administrative nightmare.
Think seasonal trading spikes, an influx of annual leave requests and the challenge of coordinating the Christmas rota.
Holiday entitlement and how effectively requests are managed directly impacts employee satisfaction. Getting the basics right is crucial to creating a positive employee experience.
We've pulled together a list of the top three most commonly asked questions to help you prepare for the festive season from an HR perspective.
1. Do employees have the right to take annual leave over Christmas?
The festive period is a time when many businesses see extra demand for their products and services. While your staff may wish to finish for Christmas on Friday 20th December, employers are legally entitled to restrict when an employee takes annual leave. It's important to ensure all employees are aware of your leave policy over the Christmas period.
Unless a contract of employment states anything different – an annual leave request is exactly that – 'a request'.
Remember that employers must always give as much notice as the amount of leave requested when accepting or refusing a request. For example, you should give two weeks' notice if the leave requested was for two weeks.
Especially if Christmas is your busiest time of year, it's a good idea to plan ahead. Communicate with employees to ensure they are booking their annual leave at regular periods throughout the year. Whether you have a self-service application, a spreadsheet or paper-based forms, managers need to monitor how many annual leave days their employees have left to take.
If your demand does peak during December and your annual leave year also ends in December, you could be compounding the problem. Your employees will be submitting last minute requests to use up their allowance while demand for your product or service is at an all time high. To alleviate this, consider changing the start of your annual leave year to April for example.
2. Can an employer insist that an employee takes annual leave during a Christmas closure?
Employers can inform staff that they need to take leave at certain times of the year such as during a Christmas closure.
Best practice would be to communicate any periods when you require an employee to take annual leave at the beginning of the holiday year. If you don't, some staff may not have sufficient leave left to take the time off as paid leave.
3. How can I negotiate the Christmas rota when annual leave requests are concentrated around the same days?
Naturally employees will want to make plans with their friends and family for the festive season. Planning and communicating the rota as early as possible will be key to its success.
One option is collating requests to see if you can accommodate everyone's wishes. But what if everyone requests the same days off? You could consider giving those working over Christmas, time off over the New Year, and vice versa. Self-service applications can help with the authorisation process and can ensure that all employees are treated fairly and consistently.
Employees feeling resentful or hard done by won't make for a happy workforce!
Calculating Holiday Entitlement mini-guide
We hope this assists you in some of the situations we are regularly asked about. For more information, click here to download our mini-guide which covers:
The legislation governing holiday pay and entitlement
The statutory requirements for holiday entitlement – and what they mean
How to calculate holiday entitlement for full and part-time staff
How to calculate holiday entitlement for starters and leavers