December 22, 2021
Managing the impact of adverse weather conditions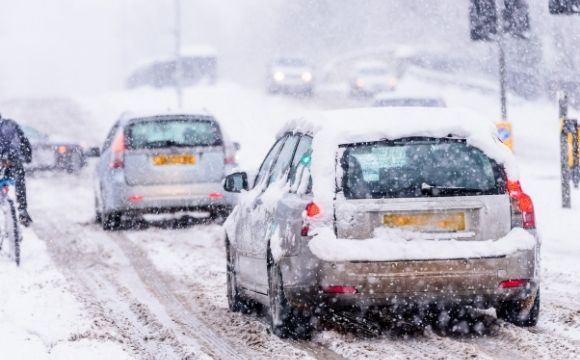 Winter inevitably brings bad weather and travel disruptions. For those still travelling to their place of work, this can make getting there on time far more challenging.
Here at Moorepay we've come up with some useful information on how to manage the impact of adverse weather conditions.
What should employees do during adverse weather conditions?
There may be occasions when unforeseen circumstances affect an employee's ability to work normally. These include adverse weather conditions, such as a severe snowfall.
In such situations we expect employees to make every reasonable effort to reach their workplace. They should adapt their means of travel if necessary, even if this means they will arrive late.
What should employers do?
Where conditions worsen and employees are at their place of work, the employer must take action where there's a risk to the health and safety of the employees or other people.
They may decide work must cease and it's appropriate for staff to leave work early.
They may also decide to postpone or cancel work on succeeding day(s).
Where there's the potential for disruptive problems to persist, employers should try to put contingency arrangements in place.
How does this affect employee pay?
There's no automatic legal right for an employee to be paid for working time they've missed due to travel disruption or bad weather. Although they may request the time as holiday or unpaid leave. Employers may also agree staff may make up the time at a later date, and may consider whether it's possible for them to work at another location or from home.
What happens when an employer decides to close?
Employees who were ready, available and willing to work will usually be entitled to their normal pay if:
Their employer fully or partly closes their business
Their employer reduces their hours
Other essential staff such as line managers are unable to get into work
Staff who provide access to the building are unable to get into work
Please check the employees' contracts and workplace policies – these will state what workers need to do in special circumstances like these. This might include things like working at the nearest accessible workplace, doing other duties or working from home.
Different employers will have different business needs during travel disruption and bad weather.
Remember, employers must keep in communication with their workers and be flexible, fair and consistent, at all times.
Other important considerations
Allow workers to travel to the workplace a little later than usual if the travel disruption or weather is expected to improve
Use flexible working to let workers make up any lost working time
Offer workers who can get into work the chance to swap shifts or work overtime
Use homeworking for a temporary period
Switch to duties that can still be carried out
Agree for workers to take time off as paid annual leave
We've got more top tips in our blog 'Five employee absence tips for employers'.
If you have any concerns about travel disruption and employee absence, Moorepay customers can contact our advice line or policy team to discuss implementing an adverse weather policy.