February 28, 2022
Microsoft integration: Changing the way holiday is booked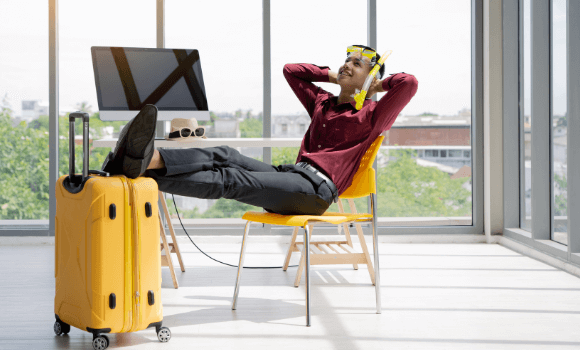 Employees can now book their holidays directly through Microsoft Outlook Office 365.
Check emails and book holidays without switching screen.
We're usually against emails and holidays combining, but in this instance we'll make an exception. Here's what you can expect from this integration and the benefits coming along with it.
Easy to access
Our Next Generation Software is easy to access. And no, we're not just talking about our fresh out the box Mobile App, (although it is pretty neat.) Accessibility also comes in the form of API connections, making connectivity and access easier than ever before. One of our most recent connections being with the powerful, the mighty, Microsoft Office 365.
So you might be sitting there thinking APIs, Microsoft, all well and good, but what on earth does this have to do with me? And what does it have to do with booking a jolly?
Well sit back, grab the popcorn, here we go.
What the connection looks like
Let's face it, booking holiday is a basic administration task. Logging into the system, forgetting your password, waiting for approval. Yawn, we're bored already. Our connection into Microsoft means employees simply submit their leave request directly from Outlook, only for it to be reflected in the Moorepay system.
No more splitting screens, switching between emails and admin, or hunting down the leave calendar. Now it's all done from one spot.
So, employee experience just skyrocketed, but what about our hardworking payroll & HR teams? Well, you can look forward to no complaints about sluggish approvals, mismanaged passwords or technical issues ripping the hopes of a super cheap fight to Malaga at the seams.
It might not be an integration with the Ryanair website, but it's pretty much the next best thing. We're talking streamlined processes, improved leave visibility and a product that's truly integrated into the everyday.
What to expect next
Our work with APIs and integration is far from over. Our team are working hard on expanding our API integrations, and improving connections to other well-loved applications. That means you can expect further integration into Outlook, Microsoft Teams and many more big names.
Now that's software that's easy to access.
Interested in our Next Generation Software? Register your interest in our Next Generation software today.
Easy to use. Easy to access. Easy to trust.