January 10, 2022
Say hello to our Next Generation Software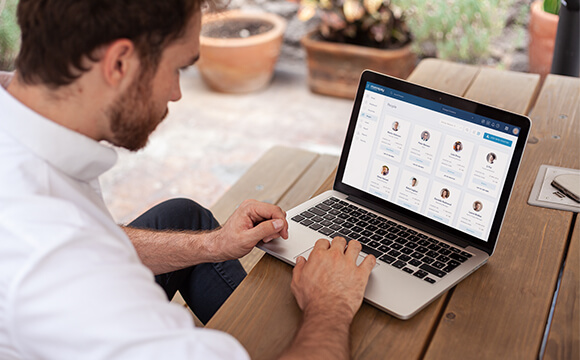 We've broken up with buffering, excessive tabs, and old school navigation, and we've never felt better.
We're excited to announce our Next Generation Software, ushering in a new era for payroll and HR professionals. The industry came knocking and we answered.
Easy to use
The new user experience had a simple focus: being easy to use. So, we've streamlined the menu screen, we've redesigned the user interface, and we've even added built-in user-guides for an additional level of support. This brand-new user experience makes our payroll and HR software the most user-friendly product on the market.
Our customer-focused development revolved around simple menu structures making things intuitive to find, and a clean design helping users to easily navigate the screens. Feedback from our customers? "It just makes sense." Our redesign makes it quick and easy to use; there's no confusion and no doubts!
Who is it for?
Employees
The powerhouse of any business, it pays to keep them happy. That's why as part of our Next Generation Software we've launched our Moorepay Mobile App. This means employees can conveniently access payslips, book leave, submit timesheets and so much more, all from their mobile device. It also includes biometric logins to enhance security measures.
Payroll & HR
From ensuring employees get paid on time and accurately, to advice across the latest legislation and compliance, our Next Generation Software streamlines processes for payroll & HR departments. We've harnessed the latest technology and design to give teams access to what they need quickly. Our redesign boasts clean and intuitive, real-time dashboards for easy to interpret data.
Managers
Signing off on leave takes seconds, not days. Approval processes are easy to follow, and the whole team is visible in one view. No, this isn't a dream; it's a reality with the Next Generation Software. Our redesign ensures managers can be as productive as possible.
IT department
Heard your IT department complaining about security issues, password resetting and manual protocol that wastes time? Don't worry, we've not forgotten about them. Our Next Generation Software is just so easy to trust. Backed by the latest Microsoft Azure technology which means security comes as standard, while Single Sign-On functionality reduces time consuming password resetting and management issues.
Supported by the best browsers in the industry, including: Chrome, Firefox and Microsoft Edge. To improve security and speed, we've taken a step away from Internet Explorer – music to the ears of IT departments everywhere.
Growing with you
Transfer large volumes of data at blisteringly high speeds, centralise and secure your data storage, and integrate with your current applications and platforms through open API architecture. As you change, we change with you. You're free to re-purpose, re-prioritise and refresh the way your personalised dashboard looks – and run an ever-expanding list of APIs across it.
Interested in our Next Generation software? Of course you are! Register your interest in our Next Generation Software today.
Easy to use. Easy to access. Easy to trust.