May 11, 2017
Shared Parental Leave – Why Has the Uptake Been so Low?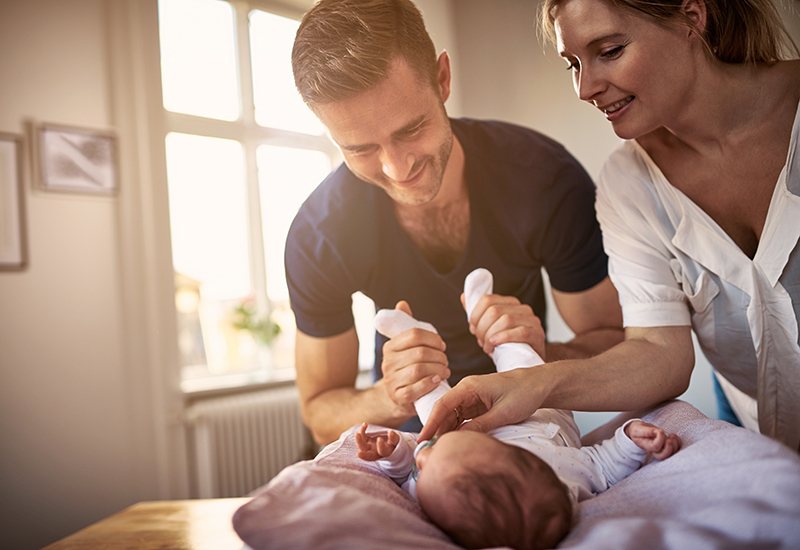 Despite being launched more than two years ago Shared Parental Leave (SPL) has not been as popular as expected.
In this article we look at what SPL offers, why uptake has been far below expected levels, and the proposed changes due to come into force in 2018.
What is Shared Parental Leave?
SPL was first introduced in April 2015 and provides eligible parents with the opportunity to share the care of their child for up to fifty weeks following birth or adoption.
Mothers must take the initial two weeks leave after the birth (four if she works in a factory), but they can then decide to reduce their maternity leave and exchange it for SPL.
Fathers are still entitled to two weeks of paid paternity leave, even if they opt for SPL.
Its primary aim was to give parents more flexibility to share the care of their child in the first year after birth or adoption. Parents can take it in turns to have periods of leave to look after their child, or they can decide to be off from work at the same time.
A parent can book up to three blocks of leave during the child's first year but they must give their employer at least eight weeks' notice before taking leave.
How do employees get paid during Shared Parental Leave?
Of the 50 weeks of leave that can be shared, 37 weeks can be paid (at £140.98 per week) providing they meet the eligibility criteria. The amount available will depend on how much the mother/primary adopter reduces their maternity/adoption pay period or maternity allowance period.
The pay for statutory maternity pay (SMP) and shared parental pay (SPP) are the same, with the exception of the provision of 90 per cent of the employees' average weekly earnings (before tax) for the first six weeks of SMP.
Why aren't parents taking Shared Parental Leave?
A recent poll by charity Working Families found that 52 per cent of fathers surveyed would use SPL. Yet, recent research from the Chartered Institute of Personnel and Development (December 2016) showed only five per cent of new fathers and eight per cent of new mothers had taken SPL since its introduction.
However, when we look more closely at the respondents, more than a third of the fathers who said they would not use the scheme said it was because they could not afford to, whilst a quarter of the fathers surveyed said they did not know about the scheme.
This research follows results from HMRC for the first three months of 2016, which gave an early indication that the scheme was not being well used. Just 3,000 couples took the leave during that time period – a mere two per cent of those families in which the mother took maternity leave.
There may be several reasons for the low uptake, including the complexity of the rules and the financial differences in pay making it an unaffordable option for many parents.
In addition, the proposed inclusion of extending SPL to grandparents in 2018 may further complicate matters.
Who is eligible for Shared Parental Leave?
Shared Parental Leave is currently only available to two people – the mother/primary adopter, and the child's father or the spouse, civil partner or partner of the child's mother/primary adopter.
Both parents must share the main child care responsibilities from birth/placement for adoption.
The employee(s) applying for SPL must have a minimum of twenty-six weeks' continuous service with their employer, and they must have achieved this by the end of the fifteenth week before the due date/matching date. The employee must also still be working for their employer at the start of each period of SPL.
Employees are eligible for SPL pay if they are eligible for statutory maternity or adoption pay, or if they are entitled to statutory paternity pay and the employee's partner is eligible for statutory maternity pay or maternity allowance or statutory adoption pay.
How to manage Shared Parental Leave
Communication of SPL is key. Information should be included in your employee handbook and this should be publicised to all staff.
With pay stated as the biggest block to employees taking advantage of SPL, take up may be larger for companies that enhance pay for such leave. However, paying above the statutory minimum may not be a realistic option for most employers. Employers who offer enhanced pay for maternity leave but not SPL are potentially at risk of claims for indirect sex discrimination by fathers who cannot benefit from enhanced pay.
Although there is a cost and the rules are complex, employers could ultimately find that employees return to work sooner if sharing leave with their partner.
To discuss SPL and eligibility criteria with an advisor please contact the advice line, or find out more about the services on offer by calling 0345 184 4615.