May 3, 2021
The secret to delivering a great employee experience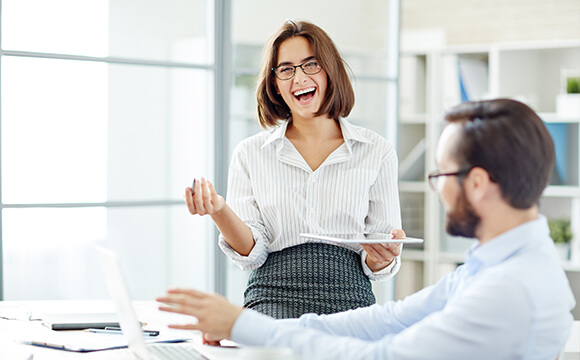 How to keep employees engaged has always been a hot topic among HR professionals. But what if we were to tell you that a lot of businesses are doing it all wrong?
Everyone knows by now that creating a happy workforce leads to more successful recruitment, retention, and productivity levels, which saves your business money.
You hear of more and more of extravagant initiatives that employers are implementing to get their employees excited about working for them. From the humble Christmas party, to (paid) designated duvet days and even slides in the office; companies have never worked harder to keep their employees happy.
But it's not the loud and proud ideas that contribute the most to a great employee experience.
Not to talk finances at the dinner table or anything, but there's one thing you always need to remember about your employees: the main reason they're working for you is to earn a living. And before you say anything, of course, there are loads of reasons as to why your staff chose your company to work for above all others – that popcorn machine might have tipped them over the edge! But ultimately, it's fair to say that your employees wouldn't work for you if you didn't pay them anything. That's the way it works.
With this in mind, the most important factor for creating a fantastic employee experience is – you guessed it – by paying them. More specifically, paying them correctly and consistently, on time, every time. Giving them a fantastic payday means no mistakes, and no questions they need to raise with their HR manager.
Of course, everyone makes mistakes, and even payroll professionals might make a small error from time to time. Which is why using the services of a payroll provider might help improve employee experience.
The most important factor creating a fantastic employee experience is paying your employees correctly and consistently, on time, every time.
According to a study by Moorepay, 60% of people have spotted mistakes on their payslips and 39% have been paid late. In fact, 'overpayment or additional hours not paid' was the most common type of enquiry into their payroll department for 48% respondents. It's therefore not surprising to learn that one in five employees have quite their job over a poor payroll experience.
So how can you improve your payroll experience?
There are two methods to improving your payroll experience:
Upskill your payroll managers
Method number one is to make sure your figures are correct. Double check, triple check, and quadruple check your calculations. Make sure that multiple people in your business have gone through it thoroughly with a fine tooth comb.
As payroll legislation can change month to month, ensure your payroll manager has enough time allocated in their diary to learning the latest legislation and staying up-to-date with the HMRC website. It might be worthwhile them investing time in watching one or two webinars a month to top up their knowledge.
And whatever you do, make sure your payroll isn't late.
2. Invest in great software
The second method is to invest in software that will do all this for you – including automating messy manual calculations and staying up-to-date with legislation.
Great payroll software that helps the employee experience may include:
A seamless move to the new provider
Intuitive software that's easy to use for both employers and employees
Employee single sign on, so they can access their documents and payslips from one place
Automatic calculations built in – to remove any human errors from their very important payslips
By reducing error and delivering a consistent, timely payroll, your business can greatly improve your employee experience. You can learn more about payroll software here.