March 31, 2022
Ukrainian refugees | Considerations for employers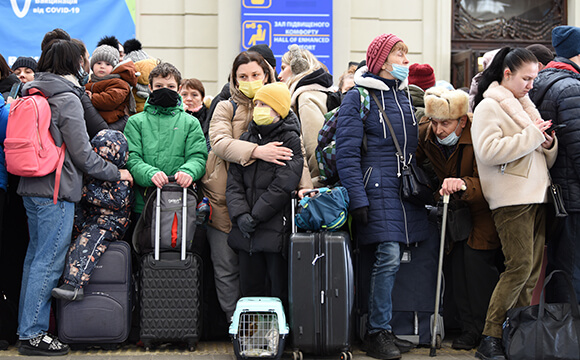 Across the world, people have been horrified by the Russian invasion of Ukraine and by footage of Ukrainians, especially women and children, crossing the country's borders.
The latest figures suggest an exodus of around four million people from the country. For Europeans particularly, a war on the continent has been shocking and led to an outpouring of offers of help, aid and homes.
Although the UK has so far issued only 26,000 visas to Ukrainians fleeing the war, the anticipation of the arrival of the first refugees and the numbers to follow has generated widespread media coverage and public concern about how best to make them welcome. How can employers support Ukrainian refugees, and what considerations must they make?
What does this mean for employers?
Vacancies remain at an all time high in the UK, following on from a post-Brexit exodus of workers from the country and attrition from the labour market through the pandemic. Although this situation may change as inflation mounts and the economic outlook remains so uncertain, for now employers are operating in a difficult market.
Ukrainians entering the UK under the two refugee schemes currently running will have the right to live and work (as well as access health care and benefits) in the UK for up to three years.
What to consider when employing Ukrainian refugees
If you think that you could offer jobs to Ukrainian refugees, there are some important aspects to consider.
A consortium of some of the UK biggest companies has come together with a stated intention of offering jobs and supporting refugees into work. The coverage of this has been favourable with an understandable emphasis on helping Ukrainians settle here, but as always, the reality is more nuanced.
Welcoming candidates
Making yourself a welcoming organisation for refugees – whether it's one or two or on a much larger scale – takes some thought and effort. Links with local charities or organisations supporting refugees will give you ideas about what you can do to help in line with your existing resources.
While you can state openly that you welcome applications from Ukrainian refugees – preferably with some practical steps to underpin that – you cannot specifically seek to recruit them over other groups, as this could lead to discrimination. So be careful with the language that you use in job advertisements or other correspondence. Creating a welcoming environment for refugees may enable you to access talent pools from other groups including Afghans and Syrians as well.
If you have a genuine requirement for Ukrainian speakers, or speakers of other languages commonly spoken in Ukraine such as Russian and Polish, then this could certainly mean your idea candidate is among the recently arrived refugees. But the crucial factor here is that you need someone with those skills, not someone of a particular nationality, race or ethnicity.
Training
Many people arriving now are people who at home had professional or skilled jobs. Language may be the primary barrier to new employment, but professional jobs will often require re-training and accreditation. Consider how you can support people – of any nationality – to acquire the right skills to allow you to benefit from their experience. Are there ways in which roles can be adapted to accommodate this?
Supporting existing staff
Before the war, there were around 38,000 people born in Ukraine living in the UK. Many of these people will have relatives and friends still in the country. Don't forget that they may need support – both practical and for their wellbeing.
Future-proofing
Three years seems like a long time, and it is to be hoped that many refugees will be able to return home to a peaceful life long before that. However, do remember that the right to work will expire and anyone still working for you under one of these visas will need to take steps to renew them in plenty of time. You should talk to people, remind and support them at least six months before expiry.
In the meantime, remember that many if not most refugees are likely to want to return home when it is safe to do so.
If you come to rely on refugee workers, wherever they are from, are you prepared for the possibility of a sudden exodus of staff if the situation changes? What conversations might you have to tempt them to stay, and what steps would you have to take to ensure their continuing right to work ?
Making these considerations now will enable your business to take action with confidence in this difficult time.