November 8, 2021
Virtual Christmas party ideas for HR teams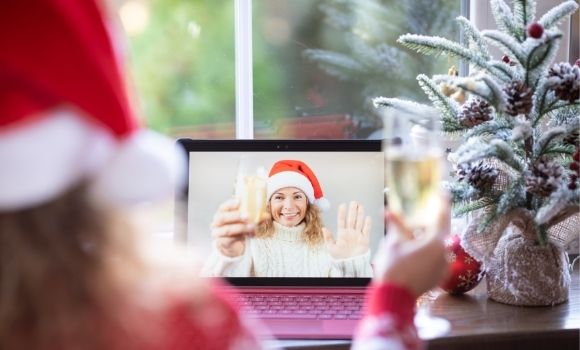 Usually at this time of year we're getting ready to celebrate Christmas with our work colleagues. Unfortunately, the traditional work Christmas 'do' or even a group meet up at the local pub are looking unlikely for many teams. Here's what you can do instead.
Working life has been a bit different this year, with many employers continuing flexible working practises in the wake of the pandemic. With the amount of Covid cases still a concern, many organisations are looking for alternative methods to socialise this Christmas.
A recent survey by Mind found that 33% of employees currently feel isolated. Therefore, the need to bring employees together and improve wellbeing is more important than ever. The Christmas party is the perfect opportunity to celebrate achievements as well as the obstacles you've overcome together. Whilst you may not be able to have the traditional party, with some modification, you can still pull off a cracking Christmas celebration!
Here are some great ways to get together and celebrate virtually.
Zoom virtual Christmas party
Celebrate via Zoom. Distinguish this one from you regular Zoom calls by sending invites, party hats, Christmas crackers and/or decorating kits ahead of the meeting to get your team into the Christmas spirt. Plus, you could ask your team to make their own presentation on something unique and festive. Then do a team vote on which one was the most hilarious or wacky!
Virtual pantomime
Many theatres are showing virtual interactive pantomimes. Why not arrange to watch one together? Or if you really wanted to mix it up: create your own company version!
Murder mystery party
Host a virtual Christmas themed murder mystery party. If you have creative team members, ask them to draw up the script. If not, you could always purchase one online and tweak it to make reference your organisation.
Christmas bake-off
Bring out the Mary Berry's in your team by hosting your own virtual bake-off. You could even arrange to bake together online. Whilst you may not be able to taste the finished goods, you can always judge on your own criteria such as appearance or uniqueness.
Virtual secret Santa
The same rules apply here – you just do the picking of names online instead of from a hat! For instance, there a few apps that will do an anonymous selection and email the details to all participants. Gifts can simply be sent through the post.
A few extra tips
Get the family involved
All the above can be adapted to involve your colleagues' families too, making it a real social event.
Ask for volunteers
The best ideas will come from your employees. Ask for volunteers to get involved with the arrangements and ask employees what they would like to do. Gaining buy-in from employees up front will help prevent people feeling that they have been excluded from the arrangement.
Plan
Give some thought to the date and time of the function to ensure this doesn't mean a certain religious group is excluded from attending due to a foreseeable event.
Usual rules apply
Whilst the overall aim is for everyone to have fun, if it's a work organised event, all attendees will be bound by the same expectations of conduct that would normally be in place. Make sure employees are aware that inappropriate remarks or abusive behaviour will not be tolerated under any circumstances.
Focus on fun
It's been a tough year, so whatever you choose to do: keep it light hearted, encourage laugher, and have some fun!