December 15, 2020
Virtual Onboarding: How to Make New, Remote Employees Feel Welcome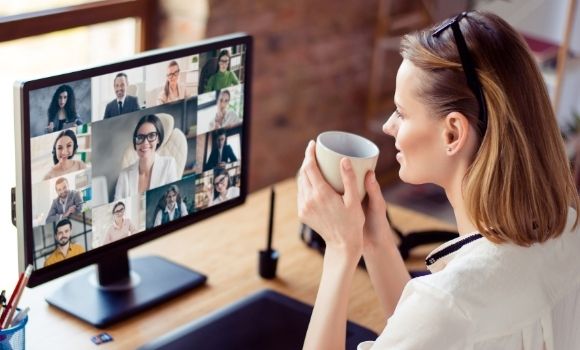 Your newly recruited employees may be facing their first day with you, from their home. So, how do you make sure your new, remote employees feel welcome?
Typical onsite onboarding would include an introduction to the team, a tour of the office, and a meeting with management. A failure to do these things could result in the new employee feeling isolated or uncertain about their new workplace. This is especially pertinent given that new recruits who are going to be working from home are unlikely to have met many of their colleagues in person, other than perhaps during the hiring process.
Given the lack of in-person interaction for new starters who are working from home a more structured onboarding process is recommended. This will help the new starter get a better understanding of how their role fits into the wider business, to understand the culture of the organisation, and to feel welcome.
Here are a few things you'll need to do to ensure a structured onboarding, and a welcoming experience for your remote new starter.
Start the Process Early
Send a welcome email a week or two before the new employee begins their new role.
It's a good idea to send pertinent information such as an organisation chart, indicating who in the business will reach out to them for their induction sessions.
Timetable & Support
Set out work plans for the first few weeks. Break down the first week from Monday to Friday and add structure into morning and afternoon tasks. This will give the employee clarity about what to expect once they commence their employment.
Provide contact details for their line manager or HR, in case they have any initial questions.
Send your company handbook, provide links to any other sources of information that will assist them in their new role and any login details they need.
Provide links and guidance to your digital learning platform if you have one.
IT, Equipment & Setup
The last thing you want is your employee spending their first few days in the job going backwards and forwards with your IT team, setting up equipment and troubleshooting issues! Plus, you need to make sure they have a safe and suitable setup.
Ensure laptops and phones are set up correctly and devices are delivered before the start date.
Check the new employee has access to a suitable workspace, ask them to complete a workstation risk assessment.
Check they have access to a reliable internet connection or whether they need a VPN.
Introduce them to the tools you use to communicate with your employees e.g. Microsoft Teams, Zoom and Skype.
If possible, give them access to dedicated technical support during the early part of the onboarding process.
Ensure your new starter understands your IT policies and logs on through a secured VPN network.
Communication
All efforts to make your new remote employee feel connected to the organisation will help in their long term development.
Set up a virtual meeting that welcomes your new starter into the team.
Set up a series of video calls with key people in the business within their first few days.
Buddying
Assign them a buddy or mentor and encourage the buddy/mentor to use video conferencing technology to interact with the remote worker during the onboarding process. This can include taking them through company procedures, giving general advice and guidance, facilitating introductions to other people in the business, or organising virtual coffee-catch-ups and informal chats. Face-to-face screen time will decrease feelings of isolation and builds trust.
Training, Coaching, Personal Support & Guidance
New starters will progress quicker with a comprehensive Learning and Development programme. It is important to offer training, coaching, personal support and guidance during these uncertain times of change.
If you are using an online learning and training programme, ensure you check in with the new starter to see if they need any support and that they are progressing through the programme.
Regular Check-ins
Check-in with the new starter regularly but aim to strike a balance between creating clear lines of open communication and making someone feel like they are being micro-managed.
For the first week or so, check-in once a day but this can be reduced over the following weeks, particularly as your new employee gets to know their colleagues and opens up further lines of communication over projects and priorities.
Reinforce your video call or phone chats with clear actions over email – this will also give you something to refer back to in your next catch up.
Review and Feedback on Performance
Although this is a unique scenario, the probation process still performs the same function in terms of allowing both sides to decide whether the role is a good fit and that the new starter is meeting expectations. However, you may need to temper some expectations or make allowances around certain elements of the role given the unusual remote set up and the fact that training or shadowing can be made more difficult through being remote.
It is also a good idea to get feedback on the onboarding programme overall to check the new recruit is happy and so you can adjust the process if necessary when you onboard your next new starter.