January 11, 2022
Why we built the Moorepay Mobile App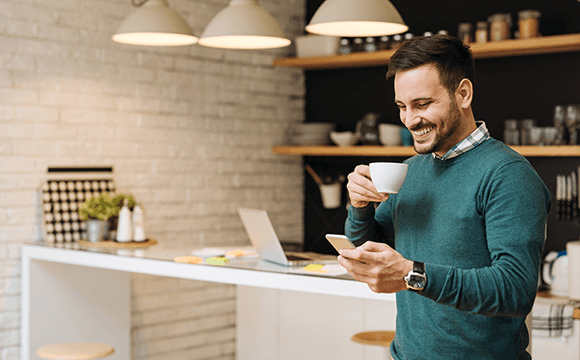 Beautiful. Convenient. Easy. Is it what dreams are made of? Maybe. Say hello to the easy to access Moorepay Mobile App.
Why we built the app
Our users said that our software on mobile was "useless", "unacceptable" and "the worst experience ever". Suffice to say, we knew that we needed to change. So we took their feedback on board and started building a bespoke app to create a better user experience for all.
Although our software was simple and intuitive to use on desktop, it was clear that customers who primarily used their mobiles to view payslips and find information were regularly frustrated at the lack of functionality and finesse on mobile and tablet.
One of the main issues our end-users faced was not being able to change their password or personal details easily. Therefore we knew that building a secure and simple way of logging on was one of our top priorities.
Payroll and HR managers will also benefit in a shift to a mobile-first experience. Although primarily working on a desktop, we identified managers might need to use Moorepay's Software on the go, as well as streamline their process of dealing with enquiries from employees.
With these priorities in mind, we created an app that meant employees and managers could manage their experience with ease. This is launching as part of our Next Generation of Payroll & HR Software, one of the most powerful cloud-based solutions on the market.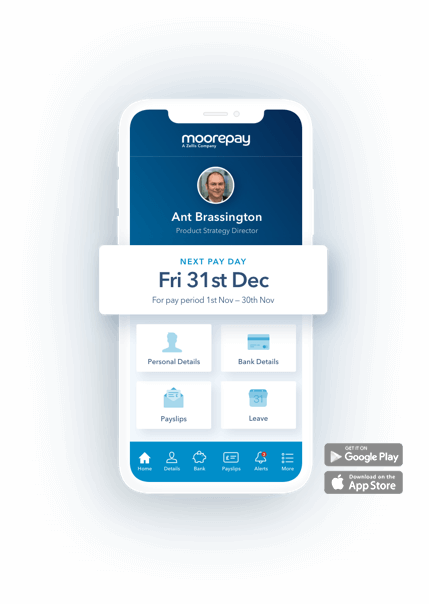 Who is the app for?
Employers
Employers can kiss goodbye to old-fashioned paper payslips, system connectivity issues, and unnecessary admin. Instead, save time and reduce costs by minimising payroll and HR queries and create an amazing employee experience for your people.
Employees
We know more than anyone that it's not always the easiest of journeys to actually get you your pay. Login screens, misplaced passwords, wading through email chains, or having to use the work computer are just some of the obstacles employees might face.
However, with the Moorepay App employees will be springing over those hurdles like Aries Merritt. Will accessibility allowing payslip download, as well as updates and edits to personal details.
What can you do on the app?
Employees can conveniently access payslips, book leave and view important information – all from their mobile device.
In the new Moorepay App, employees will be able to:
View personal details
View and change bank and building society details
View and download payslips
Add dependant and emergence contact details
Request leave and holiday requests
Check leave balances
View team leave
Submit timesheets
View and delete alerts
As well as managers being able to do the following:
View team leave
Review pending/ approved leave requests
Review pending/ approved timesheet requests
Special features
With the new app, users can enjoy fast and secure login through fingerprint and facial recognition, similar to using a banking app on their phone. Push notifications and prompts can be activated so that no-one misses a trick. When on the app, the simple menu structure and improved design makes everything easy to find.
We've also included the ability for users to see and send payslips to interested parties, like mortgage or life insurance providers. 
"Privacy Mode" ensures that pay amounts are protected by default when an employee first open sthe app. So no one can have a sneaky look over your shoulder to see what bonus you got this month! But if not needed, then users can choose to turn privacy mode off later. 
How can I get it?
Users on our Next Generation Software can simply visit the Google Play Store or the Apple App Store, download the app, and away you go.
You spoke. And we listened. Thank you to our customers for pushing us to be the best we can be.
Moorepay. Making payroll & HR easy.