October 2, 2023
Black History Month | An interview with Olabisi Fashina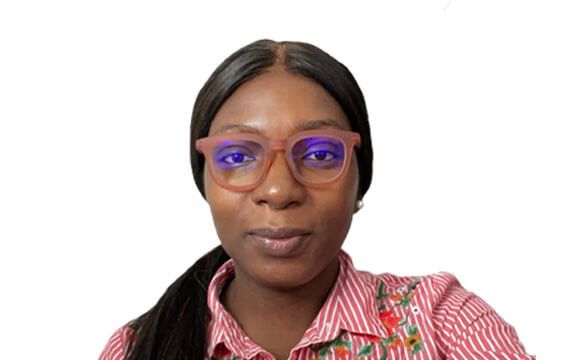 This year for Black History Month, we're celebrating the careers and contributions of our colleagues with African or Caribbean heritage at Moorepay.
In our conversation with Olabisi Fashina, Senior Business Analyst at Moorepay, we discuss her career, as well as why this month is so important and what lessons can be learnt to improve DE&I in the workplace.
Can you give us an introduction into what you do at Moorepay?
I work as a Senior Business Analyst and my role basically entails gathering and documenting business requirements. I have meetings with stakeholders as well as gathering and documenting requirements.
What do you think is the greatest strength that you bring to your role?
One of the key strengths I bring to the role is my ability to communicate and listen effectively. If I don't communicate and listen properly, there's no way I can gather or document any requirements. So, one of the greatest skills I've got is listening to and understanding whatever perspective anyone might be coming from and being able to document it concisely.
This is particularly important in this role because if you're going to develop any new features in any part of the software and the requirement isn't right, and we then go to production, it goes live and it comes to pass that the product is not what was requested, I will be responsible for the end product not meeting the needs of users.
On the theme of Black History Month, why do you think Black History Month is important?
Black History Month is important to me because it allows us to celebrate Black history and culture. As someone who has moved to the UK from Nigeria, it can be difficult to stay connected to my culture. Black History Month is a time to recognize the experiences of previous generations and celebrate the lives of those who came before us.
It is also a time to teach younger generations about their history and culture, and to remind them that they can achieve anything they set their minds to, regardless of their skin colour. Black History Month promotes dedication and persistence by showing us that people of colour have achieved great things in the past.
What have you learnt from these previous generations that has shaped you?
I have learned dedication, persistence, and self-confidence from my parents. They taught me that I can achieve anything I set my mind to, regardless of my skin colour or background. They also told me that it is important to keep pushing forward, even when faced with challenges.
I have also learned from the stories of people in the past who have overcome discrimination and succeeded. These stories inspire me to keep going and to never give up on my dreams.
I am passing on these lessons to my own children. I want them to know that they can achieve anything they set their minds to, and that they should never let anyone tell them otherwise.
How do you think the world has changed for people with Black heritage?
Technology and globalisation have made it necessary for companies to employ people from all over the world, including Black people. For example, my partner's company has offices around the world, and they sometimes need to hire people who are familiar with specific regions or cultures. This has led to an increase in opportunities for Black people, and many companies are now recognising the importance of diversity and inclusion.
Of course, there is still more work to be done, but the world has made significant progress in recent years. More and more Black people are getting the opportunities they deserve, and the world is starting to see what they have to offer.
Moorepay, for example, has been a great place to work since I moved to the UK. I've never been treated differently because of my race, and I'm the first person to hold my current position. I'm grateful to work with a wonderful team that is supportive and inclusive.
Do you think there's any other ways that D&I can be improved?
There are two main barriers that prevent people with talents and skills from immigrating to the UK and other countries: sponsorship requirements and cultural ignorance.
Sponsorship requirements: In order to work in the UK, immigrants need to be sponsored by a company. This can be a difficult process for companies, and it can prevent them from hiring talented people from other countries.
Cultural ignorance: When people from different cultures interact, it can be difficult to understand each other if they are not aware of each other's cultures. This can lead to misunderstandings and missed opportunities.
We need to find ways to address these barriers. We can make it easier for companies to sponsor immigrants, and we can educate people about different cultures. This will help to create a more inclusive and welcoming environment for everyone.
Are there any particular ways you'd recommend for people to learn about different cultures?
Even a simple Google search can help you learn more about different cultures. You don't need to know everything, but just a few things can make a big difference and help you communicate with and understand each other.
It's also important to learn how people expect to give, receive and respond to feedback, as this can differ in different cultures. For example, when I worked with a Danish company, they were very direct and undiplomatic. This is common in Danish culture, but people from other cultures may not be used to it. In some cases, you may need to be more emotional or less direct when giving feedback. The important thing is to learn and adapt to the person you're talking with.
If you want to learn more about Black History Month, click here.