September 26, 2022
Distributing your docs just got easy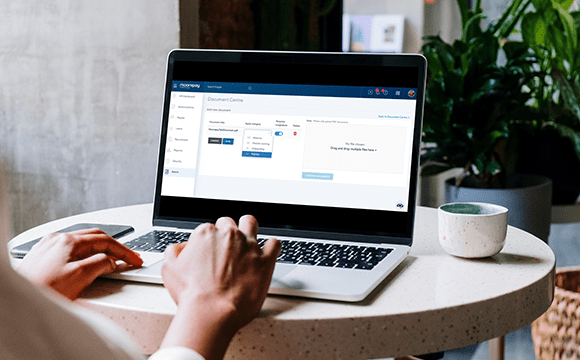 Step away from the scanner. Like now. If you're still printing, scanning and rugby tackling your employees to get a signature on important documentation, we might just have a simpler way. Say a big hello to our Document Centre.
With our brand-new Document Centre, you can quickly send important documents to your employees straight from our software. Within the module you'll be able to assign the document to individuals, groups or the whole darn office.
Our clean navigation makes it super simple to see who's taken action and enables you to resend it as and when you need to. Compliance worries? Make them a thing of the past with a complete audit trail.
Save time
Ahhh time, the thing you have none of, and we'll bet admin is draining the last ounce of it. With our Document Centre there's no need to chase down your employees for a signature on the right documentation.
Instead of blasting an email out to every man and his dog and then searching for the missing signatures, our clever software will tell you exactly who hasn't read or signed your document and allow you to resend it in just a few clicks.
Document control
Whether it's a typo, a missing clause or an annual update, you'll be able to keep tabs on your version control straight from the Moorepay software. Forget questions like which document is the latest and who has signed it, simply hold it all in our cloud-based software for complete visibility and easy document management.
Compliance visibility
You might spend hours creating the perfect document that ticks all the relevant compliance boxes, but how do you know your employees are really reading this information? With our Document Centre you'll be able to see plain as day who has and hasn't taken action, and the best bit? A complete audit log when the document police come a knocking.
Our Document Centre is part of our Next Generation Software. Like what you're reading? Get in touch to organise a demo and have a chin wag about your requirements and how we can make things easier for your business.