November 1, 2021
Why stress prevention should take priority in your business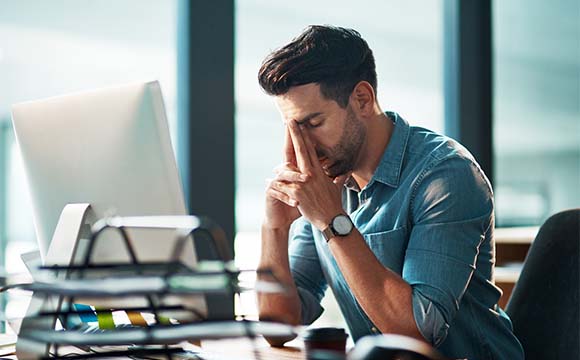 There are many ways to manage stress in the workplace, but are employers taking it far enough? What can you do to prevent stress in the first place?
We all know stress not only hurts our employees, but our business goals as well. Due to this, managing stress is a key part to any HR or Health & Safety professional's daily duties.
A good Employee Assistance Programme and Occupational Health service are common (and effective) methods to manage stress, but they only fix the effects, not the cause. What about minimising the causes of stress? This International Stress Awareness Week, we encourage employers to implement stress prevention techniques in their business. Here's how.
Five steps to stress management
Similar to developing a risk assessment, the HSE Management Standards approach can help employers manage the causes of work-related stress by improving certain areas of work.
1. Identify the risk factors
The six key areas of risk to explore in this step are: workload, amount of employee control, support, relationships, a person's role, and how change is managed.
2. Decide who might be harmed and how
For this, looking at a wide range of data is best. You can conduct a survey with employees and look at absence records, exit interviews and staff turnover to create a holistic picture of stress in your workforce.
3. Evaluate the risks
Use the data gathered in the previous step to evaluate what the risks are. You might want to support this with a focus group to drill down into the details.
4. Record your findings
Create an action plan and how you will know each step has been successful. Create short, medium and long-term goals which you can then communicate to your employees.
5. Monitor and review
Regularly check your plan against your objectives.
You can read more on the HSE Management Standards in our managing stress guide.
Your line managers
Often being the first point of contact if an employee has an issue, line managers play a vital role in identifying stress in your organisation. Providing management training that includes stress management will therefore help your line managers be a greater support to their colleagues, as well as better enable line managers to detect stress and raise the issue early.
Useful resources
The HSE have provided many helpful documents and templates that can support this area of your business. Download them here.
Read our previous blog article on how to manage stress at work or watch our webinar on stress from a HR perspective.
At Moorepay, a stress risk assessment is part of any Health & Safety policy we provide. You can learn more about our Health & Safety Services and see how we can do all this hard work for you!