February 26, 2021
Paternity Leave in the UK: FAQs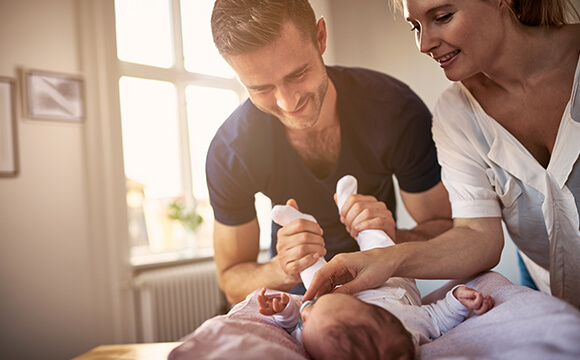 Is your business is going through a baby boom? Is navigating the ever-changing types of leave available to parents giving you a healthy dose of baby brain? Fear not. We've pulled together our ultimate employer guide and FAQ's especially for you.
Paternity leave is an optional leave of absence that partners may take in order to bond with their new child. It's essential that you as a business know your responsibilities. Although the word 'paternity' itself refers to men, Statutory Paternity Leave and pay is available to eligible employees regardless of gender.
Q: What Paternity Leave Are Employees Entitled to in the UK?
A: Employees with 26 weeks' continuous service and ongoing employment are entitled to Statutory Paternity Leave and Pay if their partner is having a baby, including through surrogacy, or if they are the secondary adopter of a child. The entitlement is 1 or 2 weeks of paternity leave, which must be taken in a block of 1 week or 2 weeks. Workers who cannot get Statutory Paternity Leave may be entitled to Statutory Paternity Pay to cover a non-working period.
Q: What Is the Rate of Pay for Paternity Pay?
A: Ordinary Statutory Paternity Pay rate is calculated at £151.20 per week, or 90% of your employee's average weekly earnings (whichever is lower). In addition to this Statutory Paternity Pay you will need to pay your employee more than the statutory minimum if this is detailed in their employment contract. In April 2021, this rises to £151.97.
Q: Who Pays the Paternity Pay?
A: Employers are responsible for paying their employees on paternity leave. Employees should be aware that they will be paid paternity pay in the same manner as their normal wages, so their payments will have tax and national insurance deducted in the usual way.
If you're struggling to calculate maternity and paternity leave for your employees, you can use the government's maternity, adoption and paternity calculator for employers.
Q: What Is Shared Parental Leave?
A: Shared Parental Leave (SPL) was introduced in 2015 by the government and allows eligible parents to split the 52 weeks that is available as maternity leave or primary adoption leave. The government introduced this initiative to make it easier for new parents to balance their work and family lives. Read more about what shared parental leave is here.
Q: Where to File Paternity Leave?
A: As an employer, you can usually reclaim 92% of employees' Statutory Maternity (SMP), Paternity, Adoption, Parental Bereavement and Shared Parental Pay.
There is further relief for Small Employers, who can reclaim 103% if their business qualifies for Small Employers' Relief. You can find more information on this from gov.uk.
Employers can calculate how much they can reclaim through their payroll software. In order for businesses to reclaim these payments, they should be included in an Employer Payment Summary (EPS) to HM Revenue and Customs (HMRC).
Q: How Do I Calculate Paternity Leave With Bank Holidays in It?
A: Whether or not bank holidays are included in paternity leave entitlements will depend entirely on whether or not the bank holiday forms part of your employee's statutory holiday entitlement under the Working Time Regulations 1998 (SI 1998/1833).
Where an employer grants employees the minimum holiday entitlement under the Regulations, a bank holiday that occurs during the employee's period of paternity leave will form part of the employee's statutory holiday entitlement. This means that a day off in lieu would have to be granted.
However, if the employer grants paid time off on bank holidays, in addition to the statutory minimum, then the employee's potential right to a compensatory day off or pay in lieu in respect of a bank holiday will depend on the terms of the contract of employment or any policy on the matter that forms part of the contract. It may also be that a right to time off or pay in lieu for bank holidays exists impliedly as a result of custom and practice, even if it is not written down in any company documentation.
Q: When Does Paternity Leave Start and End?
A: The earliest Paternity Leave can start is on the date of the child's birth or adoption. It may be started later than this. However, paternity leave must end within 56 days of the birth.
Q: Can Paternity Leave Be Staggered or Split?
A: Paternity Leave (2 weeks entitlement) can be split over 6 weeks. However, Additional Paternity Leave (of between 2 and 26 weeks) must be taken all at once.
Q: Is There Such Thing as Unpaid Paternity Leave?
Some employers provide contractual entitlements to periods of leave, paid or unpaid. These should be detailed in the contract of employment and cannot be less favourable than the statutory entitlement.
All parents are entitled to take a total of 18 weeks' leave for each child up to the child's 18th birthday. This leave, which must generally be taken in whole-week blocks is unpaid and is known as Parental Leave.
If an employee or worker does not qualify for either SPL or SPP, it is good practice to be flexible about them taking paid holiday at this time.
Looking for further advice that impacts maternity and paternity pay? Download our Employment Law Guide.