February 13, 2023
Spinning stories with data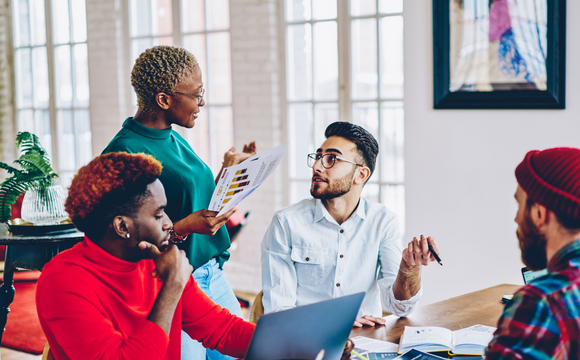 Excel and Powerpoint? That's so last century! How about intuitive analytics, customisable, and beautifully displayed? Sign us up! Intrigued? Of course you are! Check out what's new in our Analytics Software.
Reporting is pretty darn important in payroll & HR. In fact, it's essential! But pulling data from multiple sources and jamming it into excel need not be essential. We've all shed a tear over compensation reports, had absence data turn us sick, and pulled pointless pivots. Spending hours manually creating reports, only to question the validity of your data is never going to be the best use of time. Let us introduce you to our little friend: Analytics.
Erm, what's Analytics?
Boom! Access to an array of pre-made charts (over 70 in fact) on key reportable areas of payroll and HR, with super quick exports into PDF and CSV. In Advanced Analytics you can create your own graphs and charts. So you can see exactly what you need, when you need it.
But, we didn't think that was quite enough to live up to our name of award-winning software, oh no. We've made it even better!
What's new?
Although our Analytics software was already turning heads, we gave it a tiny facelift. These slight tweaks make it easier to navigate, spot trends in data, and export what you need, when you need it. Updates include a brand-new consolidated navigation bar, and page tracking, so you know exactly where you are at all times.
Ever heard the saying 'you eat with your eyes?' Looks aren't everything, but in this case they are. That's why we've added some epic new table views on top of our beautifully displayed charts. You can create easy to filter tables for quick views when you're searching for high level stats.
Storyboards
Data should tell you a story, right?
That's why we've changed our dashboard view to storyboards. Put simply, these are custom reports you can pull together to paint a clear picture of your payroll & HR. So if the board are on your back about hiring trends over the last period, you've got the answer right in front of you. Let's say they want it split by gender or department, what previously took hours, you can now rustle up in a jiffy! And the best part? You can export the whole thing into ready-made PDFs to share with your team. Easy! Or, if you love keeping up with the digital ages, you can create user access rights to specific storyboards. So you're data can be seen by the right people, at the right time. Ain't that snazzy?
Want to learn more? Of course you do. Why not book a personalised walkthrough of our Analytics software here.