September 17, 2019
6 Crucial Fire Door Safety Checks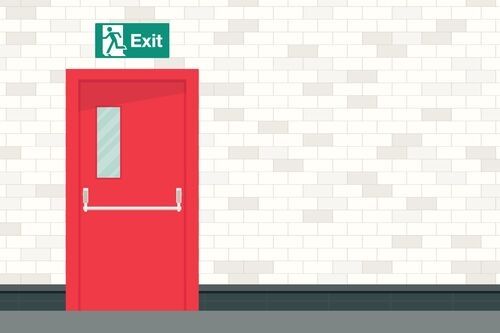 Fire Door Safety Week runs 23 – 29 September this year. It's all about raising awareness on the importance of fire doors. So, we thought we'd give you some handy hints on how to make sure your fire doors are up-to-scratch.
Why are fire doors important?
Fire doors play a crucial role in restricting the spread of fire and smoke. Buildings are compartmentalised to delay the spread of fire from one area to another. These compartments are usually linked by fire doors to allow the flow of traffic around the building.
Fire doors have two important functions in a fire; when closed they form a barrier to stop the spread of fire and when opened they provide a means of escape. A well-designed timber fire door will delay the spread of fire and smoke, without causing too much hindrance to the movement of people and goods.
Every fire door is required to act as a barrier to the passage of smoke and/or fire to varying degrees, depending upon its location in a building and the fire hazards associated with that building.
The main categories of fire doors are FD30 and FD60 – these offer 30 and 60 minute fire protection (other doors providing greater protection are available).
What checks should I do to ensure fire door safety?
Take a look at these 6 top tips and make sure your fire doors cut the mustard.
1. An intumescent strip should be fitted into the frame or door
Intumescence is a sealing substance that expands in a fire, its purpose is to seal the door from fire and hold the door in position, stopping the fire spreading into the escape routes. The gap between the door leaf and the frame must be suitable for the intumescent seal to be fitted; in general, the gap should not exceed 3 mm.
2. Check the fire door has a working door closure system
When is a Fire door not a Fire door?
…When it's ajar!
Keep fire doors closed at all times. If you do keep them open, they should use an automatic release unit when the fire alarm is activated.
3. Make sure the fire door has 3 hinges
Hinges must be the correct type and should have the correct fire rating. Three hinges are critical in helping the door stay in position and not break away from the frame in a fire.
4. Install glazing panels using intumescent seals
Intumescent seals helps hold the glass in a fire, maintaining its position under heat. Without the use of an intumescent seal, the glass will collapse allowing the fire to spread. If in doubt about the seals around your glass panels, contact the manufacturer.
5. Install and check the correct door furniture
Hinges. Check there is no visible wear on the hinge. Also, any dark marks or stains around the hinge knuckle could indicate wear and impending failure, meaning that the hinges should be replaced as soon as possible.
Door closing devices. Check that the door closing device is operating correctly. Ensure the doors are not being wedged open. Open the door fully and check it closes without catching on the floor. Open the door to approximately 5 degrees and again, check it closes fully, overcoming any latch or seal.
Electro-magnetic hold-open and swing-free devices. Make sure that any electro-magnetic hold-open device is operating correctly and releases immediately when power is removed.
Locks and lever handles. Check the levers fully return to horizontal after use and that the latch bolt is engaging smoothly and completely into the strike. Wipe any metal dust deposits off the latch bolt and strike plate. Adjust, lubricate or replace, as required.
6. Check the door has the correct sign on both sides
Staff and visitors can only be expected to use fire doors correctly if instructed. Correct signing is critical and blue mandatory "fire door keep shut" signs should be on all fire doors.
If you're an existing Moorepay customer and you'd like some more information on fire door safety, please don't hesitate to contact our Advice Line on 0345 073 0240.