February 28, 2014
Builder could be jailed for serious safety failings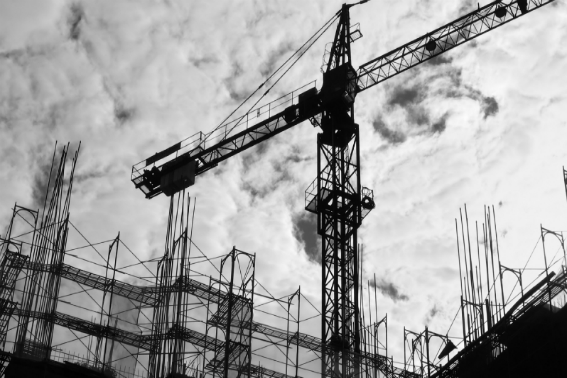 A Lincoln builder has been handed a four-month suspended prison sentence after a bricklayer fell three metres from faulty scaffolding, breaking his back in three places.
Robert Wilkin, 70, of Lincoln, was left paralysed from the waist down and confined to a wheelchair for the rest of his life following the incident at a warehouse on Freeman Road, North Hykeham, on 14 February 2013.An investigation by the Health and Safety Executive (HSE) identified serious safety failings in the construction of the scaffolding too be used by the sub-contracted Mr Wilkin to carry out the bricklaying work.
Lincoln Magistrates' Court was told today (20 February) 2014 that HSE found the main contractor, was not trained in building scaffolding. He failed to check it was safe for use and failed to ensure the safety of workers once it was in use. The main contractor was hired to fix a wall that had been damaged at the warehouse after a lorry had reversed into it and had hired Mr Wilkins sub-contracted work for the bricklaying.
The main contractor had bought and erected the second-hand scaffolding before Mr Wilkin was appointed. Scaffolding towers were positioned both on the inside and the outside of the warehouse. Wooden boards were removed from the tower on the inside and used to form a makeshift bridge between the two towers.
When the incident happened, Mr Wilkin's son, Damien, climbed the ladder to the top of the scaffold tower inside the building and successfully made it across the makeshift bridge to the outside scaffold tower.
However, when Mr Wilkin climbed the ladder, he fell from the wooden boards onto the concrete floor three metres below, suffering life-changing injuries.
After the incident HSE served a Prohibition Notice on the main contractor halting further work on the scaffolds until acceptable safety measures were put in place.
The main contractor was sentenced to four months in prison, suspended for 18 months, and ordered to carry out 200 hours worth of unpaid community work. He was also ordered to pay £2,941 in costs after pleading guilty to breaching Section 4(1) (c) of the Work at Height Regulations 2005
Speaking after the hearing, HSE inspector Martin Waring said:
"Our investigations revealed a catalogue of errors made the main contractor in the assembly of this scaffolding – something he was neither qualified for nor competent in doing. "There were numerous defects such as no edge protection, poor ladder safety and insufficient access onto the scaffolds. "Mr Wilkins has unfortunately paid for this lack of care with his health, having been left paralysed for the rest of his life."
This case high lights staff to be trained and competent in the selection and erection of both fixed and mobile scaffolding
The Working at Height Regulations
The Regulations apply to all work at height where there is risk of a fall that is liable to cause personal injury. They place duties on employers, the self-employed and any person who controls the work of others (such as facilities managers or building owners who may contract others to work at height).
Those with duties under the Regulations must ensure that:
all work at height is properly planned and organised;
those involved in work at height are competent;
the risks from work at height are assessed, and appropriate work equipment is selected and used;
the risks of working on or near fragile surfaces are properly managed;
the equipment used for work at height is properly inspected and maintained;
For managing work at height and selecting the most appropriate equipment, duty holders must:
Avoid work at height where possible, for example doing the work from ground level using extending equipment
Use work equipment or other measures to prevent falls, where work at height cannot be avoided, for example cherry pickers or scaffolding
Uuse work equipment or other measures to minimise the distance and consequences of potential falls, where the risk cannot be eliminated, for example nets or bean bags
For more information, see: The Work at Height Regulations 2005
What training is required to be a scaffolder?
All those erecting scaffolding should be competent (or in the case of trainees, supervised by a competent person) for the type of scaffolding work they are undertaking and should have received appropriate training relevant to the type and form of scaffolding they are working on.
As a minimum, every scaffold gang should contain a qualified scaffolder for the type and complexity of the scaffold to be erected.  This may be an individual who has received training under an industry recognised training scheme e.g. The Construction Industry Scaffolders Registration Scheme (CISRS) and has been awarded the Scaffolder card or someone who has received training under a recognised manufacturer or supplier scheme, to the limit of the configurations involved .when scaffold design is required and what level of training and competence those erecting, dismantling, altering, inspecting and supervising scaffolding operations are expected to have obtained.
Design and inspection issues
1. Unless a scaffold is a basic configuration described in recognised guidance e.g. NASC Technical Guidance TG20 for tube and fitting scaffolds or manufacturers' guidance for system scaffolds, the scaffold should be designed by calculation, by a competent person, to ensure it will have adequate strength and stability.
2. All scaffolding should be erected, dismantled and altered in accordance with either NASC guidance document SG4 for tube and fitting scaffolds or the manufacturers' erection guide for system scaffolds.
3. For scaffolds that fall outside the scope of 'Basic Scaffolds', the design information should describe the sequence and methods to be adopted when erecting, dismantling and altering the scaffold, any proposed modifications or   alterations outside a generally recognised standard configuration should be designed by a competent person.
4. Handover certificates should refer to relevant drawings, permitted working platform loadings and any specific restrictions on use.
5. All scaffolding inspection should be carried out by a competent person whose combination of knowledge, training and experience is appropriate for the type and complexity of the scaffold he is inspecting. Competence may have been assessed under The Construction Industry Scaffolders Registration Scheme (CISRS) or an individual may be suitably experienced in scaffolding work and have received additional training under a recognised manufacturer/supplier scheme for the specific configuration he is inspecting.
6. A non-scaffolder who has attended a suitable scaffold inspection course and has the necessary background experience would be considered competent to inspect a basic scaffold (ie a site manager).
7. The scaffold inspection report should note any defects and corrective actions taken, even when those actions are taken promptly as this assists with the identification of any recurring problems.
8. To prevent use by unauthorised persons of incomplete scaffolds, relevant warning signs identifying the areas where access is not permitted should be displayed at the access points to these areas. In addition, access to the incomplete areas should be prevented by suitable physical means.
9. Employers must provide appropriate levels of supervision taking into account the complexity of the work and the levels of training and competence of the scaffolders involved.
10. As a minimum requirement, every scaffold gang should contain an appropriately qualified scaffolder for the type and complexity of the scaffold to be erected, altered or dismantled. This may be an individual who has received training under an industry recognised training scheme, e.g. CISRS, and has been awarded the scaffolder card or someone who has received training under a recognised manufacturer/supplier scheme, to the limit of the configuration(s) involved.
Mobile access towers are widely used and can provide an effective and safe means of gaining access to work at height. However, inappropriate erection and misuse of towers are the cause of numerous accidents each year. Aluminium and thin-wall steel towers are light and can easily overturn if used incorrectly. Towers rely on all parts being in place to ensure adequate strength. They can collapse if sections are left out.
Before selecting or specifying a tower, you must be satisfied that it is the most suitable item of equipment for the job.
Erecting a tower
Many types of mobile access towers are available. The manufacturer or supplier has a duty to provide an instruction manual which explains the erection sequence, including any bracing requirements. If the tower has been hired, the hirer has a duty to provide this information. This information must be passed on to the person erecting the tower.
Towers should be erected following a safe method of work. There are two approved methods recommended by the Prefabricated Access Suppliers' and Manufacturers' Association (PASMA), which have been developed in co-operation with the Health and Safety Executive.
A correctly installed fixed scaffold provides a good level of collective safety, for all trades to work at height. The main risks are during installation altering of modifying and dismantling. Key points to take into account are:
1) Scaffolds must be erected, altered and dismantled by competent, qualified scaffolders
2) Ensure that a regular inspection is carried out at least once a week and after alteration by a competent person  – Have a simple system to ensure signs or tags are used on scaffolds which are incomplete
3) Anticipate and prepare for all the users of a scaffold throughout the project.
4) Ensure that workers on your site know and understand the system for maintaining safe scaffolds, and identifying incomplete scaffolds. Look for signs and tags which show the scaffold is safe / unsafe to use
5) Be alert to unsafe scaffolds e.g. missing boards and guardrails and report them to managers
6) Do not move boards or alter the scaffold unless you are competent and authorised to do so
7) Always ensure that access ladders are secured properly Insist on a handover certificate on completion of the scaffold. There are several methods of erecting mobile scaffolds
The first method, an advance guard rail system, makes use of specially designed temporary guard rail units, which are locked in place from the level below and moved up to the platform level. The temporary guard rail units provide collective fall prevention and are in place before the operator accesses the platform to fit the permanent guard rails. The progressive erection of guard rails from a protected area at a lower level ensures the operator is never exposed to the risk of falling from an unguarded platform.
The second method of erection is the 'through-the-trap' this allows the person erecting the tower to position themself at minimum risk during the installation of guard rails to the next level. It involves the operator taking up a working position in the trap door of the platform, from where they can add or remove the components which act as the guard rails on the level.
The most important thing to take from this case on the selection erection and maintenance of scaffolding is to have trained and competent staff, Where this is not possible then have registered contractor carry out all the work including alterations Never consider "It only just moving a few tubes or sections "
Doing so may land you with a fine / court   proceedings as in the above case.