October 28, 2021
How to plan a Christmas party amid covid-19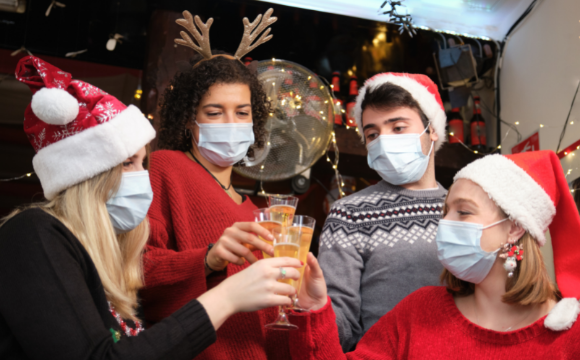 Are you planning to hold a Christmas party this year? If so, what should you consider?
Although another lockdown in the UK is not predicted, we know the government could decide to bring in its plan B measures. These include compulsory face coverings and covid passports for entry to large events or nightclubs. So as more employees return to their workplace (even if it is on a hybrid arrangement), is planning a Christmas party right for your business?
Review the measures you currently have in place to ensure your workplace is covid secure
Firstly, consider what procedures you currently have in place to manage the risk of covid-19 in the different areas of your business. Do you operate from locations in Wales or Scotland where the rules may be different from England? What is in your current covid-19 risk assessment? For example, are employees required to wear face masks at work or have you retained an element of social distancing? If you have measures in place to protect your employees and help them to continue working safely, then organising a group in-person event be at odds with your procedures. For example, attending a work party with no face masks, when employees are required to wear one in the workplace, might feel like you're giving mixed messages to your employees.
Do your employees want a Christmas party?
Bringing employees together to boost wellbeing is appealing. Especially for employees who are working from home and may feel isolated. However, it's also important to consider what your employees would like, and the benefits of a face-to-face Christmas gathering versus the risks of covid-19.
In addition, it's worth reminding yourself that many employees won't have attended large group events for over 18 months and may have concerns or anxieties about going. It's key to respect everyone's opinions. Smaller events or team meals may be more suitable in the current covid situation rather than holding one large event.
Clearly communicate with your employees about your Christmas party plans
Whatever you decide to do ensure that you clearly communicate with your employees. If you are holding a face-to-face gathering, whatever size, make sure you inform the attendees on what measures you are putting in place to keep them safe.
What kind of venue will you use (well ventilated, high ceilings, spacious, will other companies be present etc.)? Remember to ask the venue for their covid assessment so you can check what procedures they have in place to keep your employees safe (they also have a duty of care to you).
Bringing the company together – inclusion or exclusion?
The government's plan B measures could throw a spanner in the works if they are brought into place. What if covid passports are required for large events or entry to nightclubs? What if testing is required before an event? While your Christmas party may be relatively small in numbers, any measures that a venue puts in place that are outside of your control could by default exclude some of your employees from attending.
Virtual Christmas parties
Online events can work well when employees mainly work from a computer. If your business has a mix of employees who aren't desk based, then virtual parties may not be well received. Find out what employees would like and if this type of event would be welcomed. What worked for Christmas 2020 may not work going forward. Expectations may be higher with the current reduction in restrictions. However, virtual parties are cheaper, usually easier to organise and won't be impacted by a change in covid restrictions.
Don't forget plan B
The government has a plan B to implement if the number of covid cases rises and you should also consider having one. Think about the impact on your business operation if you had multiple people off sick after the event.
Even if you are planning smaller team events, you still have an obligation to keep employees safe at a work event. Consider when you would decide to postpone or change to a virtual event. What are the cancellation terms at short notice for the event? Would your business lose money for deposits etc.?
You could also consider whether it would it be better to change the timing of a larger company wide event to the summer when you could utilise outdoor space at a venue.
Remember your role and responsibilities as an employer
Employers also have Health & Safety obligations to their employees and others, and this includes work events. Attendees will be bound by the same expectations of conduct that would normally be in place at work. Employees should be aware that inappropriate remarks, abusive or discriminatory behaviour will not be tolerated under any circumstances.