May 30, 2023
Why celebration and joy is a vital part of Pride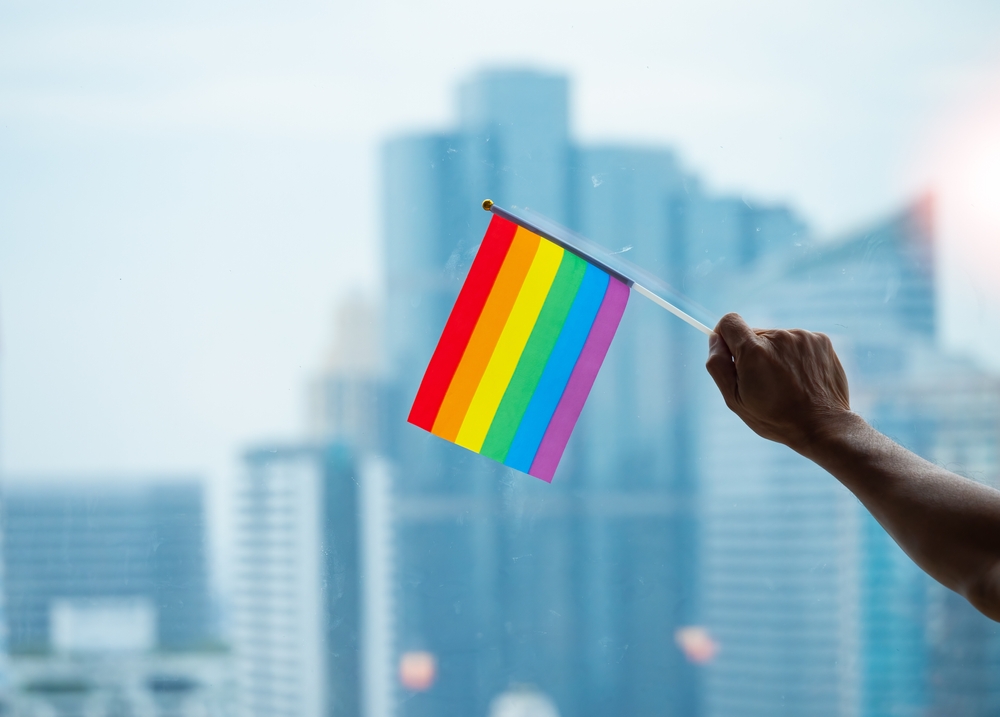 To combat discrimination and promote LGBTQIA+ equality, activism is a big part of Pride Month's focus in the UK and widely across the globe. However, our LGBTQIA+ network Moore Visibility champion that making a space for joy and celebration during Pride is equally vital for all.
What is "queer joy"?
The term "queer joy" is used to represent the deep happiness that any person can feel from experiencing signs of progress towards gender and sexual equality and diversity. For example, it can be a queer person who feels the satisfaction of fully embracing and expressing their identity. Or it could be the happiness someone feels witnessing a beautiful queer moment like a same-gender wedding.
Fighting for progress and dealing with issues the community face can be emotionally draining. That's why it's so important for our wellbeing to celebrate, enjoy life, and to make the struggle worthwhile. And Pride Month is just one way to do this, in style.
Queer joy's roots in Pride
"Sing if you're glad to be gay" was written for London Pride in 1976 and sung by Tom Robinson. Though controversial at the time, it eventually became a hit record after being released commercially a couple of years later. So, if the gay community were singing "glad to be gay" several decades ago, what has changed in the last 40 years?
Today, Pride is a celebration of everything LGBTQIA+ – not just gay pride, but pride for the whole community, including lesbian, bisexual and pansexual, transgender, asexual, and intersex people.
But Pride is more than that. Pride is about inclusivity and not exclusivity; bringing everyone together and breaking down barriers. It's about equality and unity where all can be in a safe and happy space, without any reason for anger and rage. Over time Pride has become more of an event for all to enjoy, rather than just LGBTIQIA+ people and their allies.
Why June?
June is the anniversary of the Stonewall Riots in New York in 1969. This took place after the Police raided the Stonewall Inn, a gay bar, which kick-started important protests in the US, that changed gay rights for a lot of people in America and around the world.
The Pride symbol
The rainbow flag, once a symbol for Pride, has become a synonymous symbol of love and togetherness. And this transcends not just everything LGBTQIA+, but everything associated with it: progression, the freedom to be oneself, community, and safety. Under this flag there are no personal differences and equality rules the day.
Today, it's commonly used in public spaces to show the venue is an LGBTQIA+ friendly space, rather than an LGBTQ+ only space.
Events
So how can you get involved?
During June it's officially 'Pride Month', and events take place across the country as a build-up for the annual Pride March in London that takes place on Saturday 1st July. The march ends with a huge party and celebration in Hyde Park.
Besides this, local pride events happen throughout the summer, and there are many professional and social networks that meet regularly to socialise, celebrate their achievements and collaborate towards common goals.
However, Pride Month and LGBTQIA+ events aren't the only time the country should celebrate queerness. Creating physical, interpersonal and professional spaces where all people can be open and safe about their identities is key to achieving this year-round.
What can you do as an employer?
Ensure you have a robust equal opportunities, diversity, and inclusion policy in place, and use this policy each day (not just in the appropriate months!) to make your workplace an inclusive, safe, and protected work environment for all your employees.
With Moore Visibility, we amplify LGBTQIA+ voices. Likewise, you can provide platforms for LGBTQIA+ employees to share their stories, experiences, and perspectives. This can be through internal newsletters, blog posts, or panel discussions, allowing their voices to be heard and appreciated.
Finally, continuous learning and improvement! Recognise that celebrating Pride Month is just one part of a larger journey towards fostering an inclusive workplace. Regularly assess and improve diversity and inclusion initiatives to ensure ongoing support for the LGBTQ+ community throughout the year.
If you'd like to read more content on this topic, read our article on the history of gay pride and why representation matters here; why representation matters.
For more information contact the Policy Team at Moorepay.